Inside the Clearing operation: Coventry's team opens up on busiest time of year for student recruitment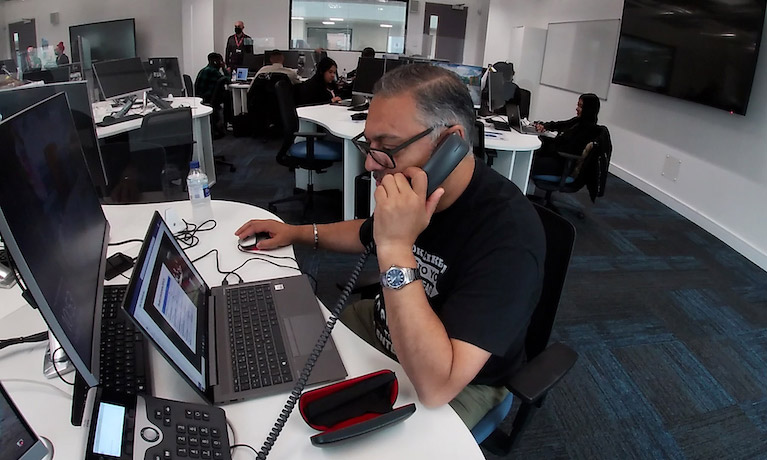 University news / Student news / Business news
---
Monday 09 August 2021
Press contact
---
Coventry University's Clearing team has opened its doors to offer a behind-the-scenes insight into what it's like to help people making moves into university during the busiest time of year for student recruitment.
With more than 70,000 UK applicants getting into Higher Education through Clearing in the UK alone last year (according to UCAS 2020 figures), it is a crucial time which can help shape and transform future educational and professional career prospects for many people.
Coventry University has once again assembled a team of experts and advisors to offer pivotal support to those making last minute decisions about going to university, or changing their preferred course or choice of university.
Hannah Keningale, admissions specialist for Coventry University has been discussing what it's like to work behind the scenes of a fast-paced Clearing operation.
Clearing can be a hectic time both for students and for us on the other end of the phone, but it's such an amazing opportunity for people to explore all of their options and to figure out which course and location is best for them.

We've got a great team at Coventry who all pull together and it gives us a really rewarding sense of pride to be able to hand students a route into Higher Education, helping them on both their educational and professional journeys. It's normal for students to feel nervous about Clearing but we're here to answer all of their questions and put their minds at ease about their options. We're encouraging anyone interested in going to university to give us a call.

Hannah Keningale, admissions specialist for Coventry University
Some of the team's most experienced members are keen to offer their advice to potential new students ahead of next week.
Don't be afraid to give us a call - it's not too late. No question is a silly question and our team is here to help you through Clearing with the aim of making it as straightforward and stress-free as possible.

If you want to find out more about one of our courses or even just get some advice, please pick up the phone. Coventry is a fantastic university with amazing facilities, a brilliant city centre location and an excellent course portfolio across a wide range of disciplines and faculties, so we're confident we have something for people of all backgrounds and interests.

Danny North, regional student recruitment specialist for Coventry University
Clearing could be the start of something amazing. Find out more about Coventry University's Clearing Hub.
To contact Coventry University's Clearing team directly, call +44 (0)24 7688 8888.