Coventry University-led project unites UK and Singapore students to help combat climate change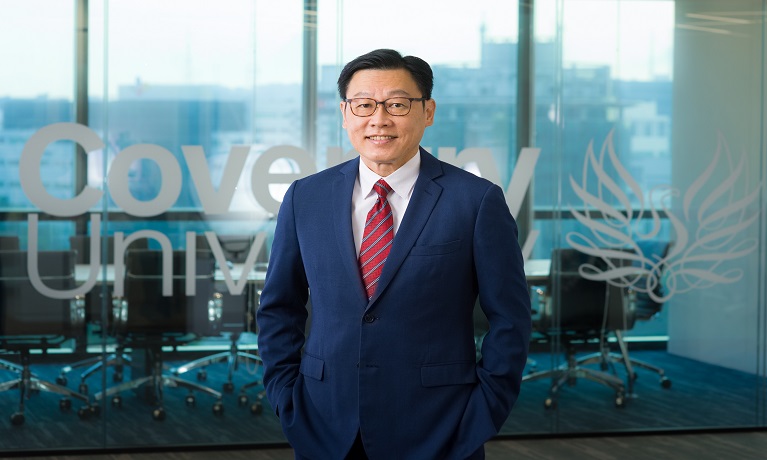 ---
Tuesday 02 November 2021
Press contact
---
A project spearheaded by Coventry University has united students from the UK and Singapore to come up with innovative solutions to help businesses combat climate change.
Over a two-week period, 80 students were involved in a hackathon, which saw them team up in groups of eight to come up with and pitch business ideas that supported Net Carbon Zero goals as part of the UK-Singapore Universities Alliance for Entrepreneurship and Innovation (UKSAEI) – the first alliance of its kind to accelerate collaborations in entrepreneurship and innovation between the two countries.
The teams were created to ensure that students from different universities and nations had the chance to collaborate.
The hackathon, in collaboration with the British High Commission Singapore Science and Innovation Network, brought together all 17 universities that are part of the UKSAEI, which is chaired by Coventry University's Michael Yap.
The students were initially tasked with choosing a problem statement and focusing on solutions or processes for UK and Singapore organisations to adopt to mitigate climate change-related issues.
One problem statement focused on incentives that governments could offer businesses to help the net-zero cause, whilst the other was based around how business rules could be adapted to encourage more organisations to be socially responsible when it comes to climate change.
Facilitating a cultural collaboration between students at a range of different universities in both the UK and Singapore has been a real pleasure. Climate change is a hugely significant topic that will require serious attention from the next generation of scientists, entrepreneurs and leaders, and we feel that encouraging students to think about and collaborate on these issues is key to helping them develop environmentally focused ideas and mindsets for the future.

Michael Yap, Regional Managing Director of Coventry University's Singapore Hub
To conclude the hackathon and decide the winner, a prestigious panel of judges including HE Kara Owen, British High Commissioner to Singapore, Richard Warburton, President of British Chambers of Commerce Singapore, and Hugh Edmiston, Senior Vice President of Singapore Management University, came together to review each of the business pitches.
Universities in the UK and Singapore both focus on imparting world class knowledge and getting their students workplace-ready, with strong collaboration, innovation and entrepreneurship skills. This UKSAEI skills programme and hackathon brought students from across 17 universities in different geographies together. The need to rise to the global climate challenge is urgent: if we don't bend the emissions curve as we need to, it could cost up to 14% of global GDP by 2050. So we need every bit of capability, talent, collaboration and fresh thinking on it.

Her Excellency Kara Owen CMG CVO, British High Commissioner to Singapore