Virtual Green Week aims to collaborate with local community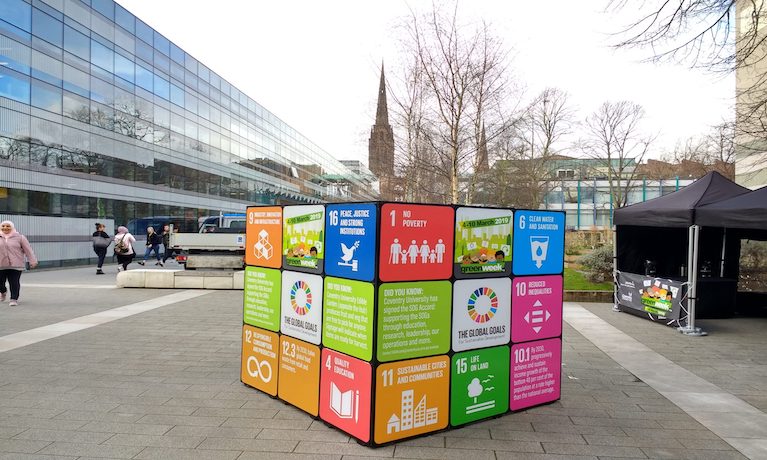 University news / Research news
---
Tuesday 02 March 2021
Press contact
---
Communities across Coventry and Warwickshire are being urged to make the fourth annual Green Week a launchpad for sustainability.
Green Week, which this year will take place between Monday 8 and Sunday 14 March 2021, originated from talks between the University of Warwick, Coventry City Council and Coventry University, and has since encompassed Warwick District Council and Action 21.
The aim is to educate and evoke action at all levels from grassroots projects up to local government change.
This Green Week we're promoting how one small act can make a huge difference. Everything you do adds up, and if everyone contributes you have a huge impact. These actions can range from taking a shorter shower to eating vegetarian once a day. What you do is your decision!
This year due to the COVID-19 pandemic all events will be online, making them accessible to more people than ever before. Previous Green Weeks have focused on Coventry and Leamington Spa, but all areas of Warwickshire and beyond are encouraged to get involved.
During Coventry's UK City of Culture celebrations, they helped to kick off a year of green culture events in the local community.
All individuals, groups, organisations, schools, charities and businesses are encouraged to use Green Week as a launchpad to begin their sustainable journey or use it to increase efforts towards a better future for all.
What do we mean by sustainability? In the case of Green Week, we look to the United Nations' Sustainable Development Goals. These goals go beyond transport, energy and waste, seeking to end hunger and poverty, improve health and wellbeing, ensure quality education and gender equality, make our cities and industries more sustainable and protect life on land and in our oceans, to bring everyone together in partnership towards these goals.
Sustainable development is critical for how we as a University, our students and the wider community look to the future. We strive to find innovation in how we live, work and interact with the world around us, to the benefit of all. This underpins our teaching, research, operations and activities that support the cities we are based within. We are excited to co-host this series of engaging events that will not only bring our communities together, but will also raise awareness about key environmental and societal issues; helping to educate people on how we can all make a difference.

Coventry University Vice-Chancellor, Professor John Latham CBE
The University of Warwick has declared a Climate Emergency and set net carbon goals for 2030 and 2050 as an integral part of our broader responsibility to protect our environment. As part of this work, we are committed to educating our staff and students about the circular economy and we are committed to reducing our waste, increasing reuse, recycling and recovery. During Green Week we hope to further this to our local community so future generations can enjoy a clean and green future.

Professor Christine Ennew, Provost of The University of Warwick
We welcome the emphasis on reuse and repair: reducing waste is something every one of us can practise in our daily lives.

John Armstrong, Chair of Action 21's trustees
You can get involved in any way that is sustainable and also engage in the many talks and events lined up for the week which are continuously being added to the Green Week website: and also via the Facebook page: or following the hashtag #GreenWeek2021.