Coventry University graduate now presenting TV news on ITV shares career tips with aspiring journalists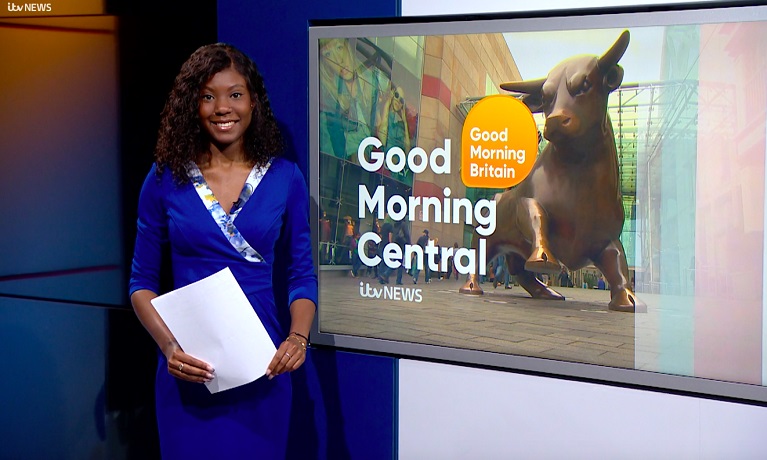 ---
Tuesday 21 September 2021
Press contact
---
A Coventry University journalism graduate who has become a TV news presenter less than three years after finishing her degree is sharing her tips for people dreaming of a media career.
Monifa Bobb-Simon, who presents ITV Central's regional news on ITV's flagship breakfast programme Good Morning Britain, is encouraging other graduates to create their own blogs and YouTube channels and build up a portfolio of original and creative ideas to enhance their job prospects.
She said she found it very helpful in job interviews to showcase the skills she learnt at Coventry University by presenting her portfolio of independent work.
I'd encourage aspiring journalists to get as much experience as possible by building a portfolio. This could be by starting your own blog or YouTube channel for example, that offers an original perspective and showcases creative ideas. I found having a body of work with me really helpful when I went to interviews.

Monifa Bobb-Simon, presenter, Good Morning Britain, ITV Central
After being inspired by the careers of veteran broadcasters Sir Trevor McDonald and Jon Snow who she grew up watching, Londoner Monifa enrolled with Coventry University to study for a BA (Hons) Journalism degree.
Drawn to storytelling from a young age, Monifa thrived on her course as she absorbed a host of skills using the university's industry-standard radio and TV studios, some of which she was able to put into practice as editor of the campus newspaper.
After completing her studies in 2018, and determined to pursue a career in television news, she landed an internship on a London newspaper that became her launchpad to a role with ITV Anglia as a production journalist. After nearly a year and half with Anglia, she got her current job with ITV Central.
Describing her role, Monifa said:
No two working days are the same. On one day, I could be creating online content for our social platforms. I might also be assisting the programme producers with the day's news, contributing story ideas on a planning shift or presenting our early morning headlines during Good Morning Britain. I love the versatility of working as a production journalist and presenter because it means I can practise different skills across all aspects of broadcast news.
Monifa loves the opportunity that journalism gives her to share people's stories and help bring under-represented ones to the mainstream. She has benefitted from working with a dynamic and supportive team at ITV Central and sees many opportunities for growth. Her immediate goal is to consolidate her presenting skills and go on to produce ITV Central's evening news at 6pm.