Coventry graduate lands exciting role ahead of Commonwealth Games 2022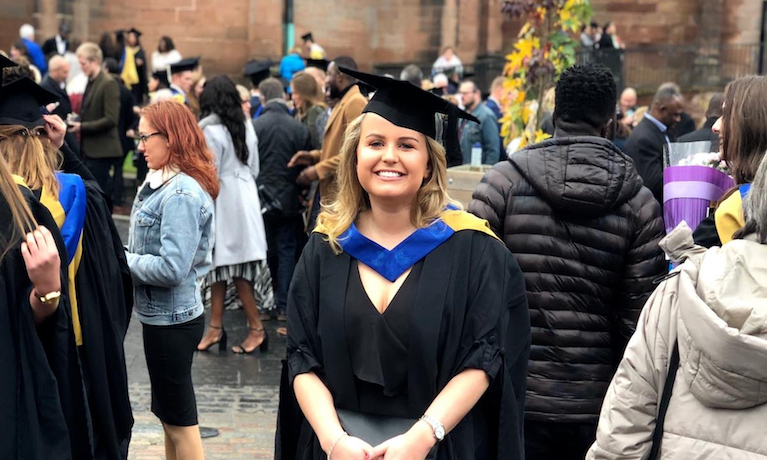 University news / Alumni news
---
Monday 13 December 2021
Press contact
---
Coventry University graduate Millie McCaughrean has landed a dream job with the Commonwealth Games 2022.
Millie, aged 25, originally from Liverpool, will play an instrumental role in helping to organise and coordinate the training of key staff, volunteers and contractors in the lead up to the eagerly anticipated international sporting event, which kicks off in Birmingham and other parts of the Midlands in July next year.
Her role as Event Services Training Operations Manager comes after studying psychology at Coventry University. It was Millie's passion for sport, which was enhanced by a sport and wellbeing role she took on with Coventry University Students' Union, which inspired her to apply for a role as part of the Commonwealth Games.
This is the biggest job I've taken on so far, and I feel as though my role as a Sabbatical Officer at Coventry University set me up really well for it, so I'm really looking forward to putting my experience and knowledge from my Coventry days into practice in the new role.

To be working on the Commonwealth Games is a dream come true to be honest. I was quite heavily involved with sport and particularly netball at uni, and that's where I really sparked my passion for sport, so to be taking on a job like this feels really exciting.

Millie McCaughrean, Coventry University graduate and Commonwealth Games 2022 Event Services Training Operations Manager
As well as a wide range of degree courses, academic facilities and expertise, Coventry University also boasts a host of extra-curricular societies and activities, including a number of sports teams that students can get involved with, meaning career opportunities can arise from hobbies as well as academic studies and professional experience.
Next year's Commonwealth Games in Birmingham will see 72 nations come together to compete, and as Millie prepares to get stuck into her exciting new role, she paid tribute to the impact her time at Coventry University has had on her career so far.
Sport was such a huge part of my time in Coventry and it really opened my eyes to the possibilities out there within the sports industry. I wasn't necessarily the best player but I always enjoyed it and honestly, I had an absolute blast at Coventry University and Coventry will always have a piece of my heart.