CUSE receives national recognition for work in 2020 and COVID-19 pandemic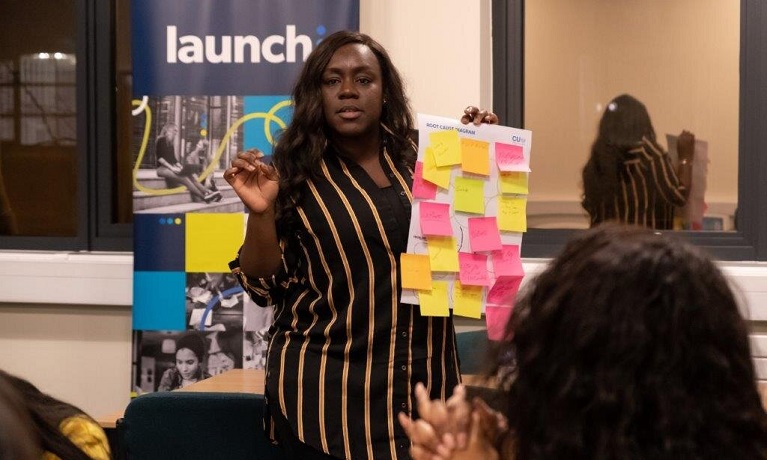 University news / Business news
---
Friday 15 January 2021
Press contact
---
Coventry University Social Enterprise's (CUSE) role in helping to create more than 30 new businesses and support the Coventry community has been recognised on the Social Enterprise Futures 2020 Roll of Honour.
In 2019-20 the CUSE team of entrepreneurs, trainers and consultants supported students, alumni, staff and the community at various stages of their entrepreneurial journey, fuelling the creation of 34 new start-up businesses, 15 new social enterprises, addressing 12 social challenges, engaging with 5,174 people in the community and welcoming 1,542 participants on their programmes.
Much of this work took place with the backdrop of a global pandemic.
Mariama Njie, Social Enterprise Development Officer at CUSE, also earned a spot on the national award list for her work supporting social enterprises and she is delighted CUSE's work has been recognised.

At CUSE, a big part of our 'why' is to help create long term social value and lasting impact by helping people to use business solutions to solve real world problems. Being part of Coventry University helps us connect with businesses in order to bridge the gap between town and gown which is often an obstacle for many city based universities.

We also work with our colleagues across the faculties to support students to find placements and internships within local Social Enterprises to enable them to get hands on experience and support the entrepreneurs to grow their businesses by drawing on the broad skillsets that the students bring with them.

We encourage them to help a local business that benefits the community, where they can get stuck in, learn more about what it really takes to be a social entrepreneur. This experience also helps them to see first-hand the positive impact and added value their skills and insight can have on the community.


Mariama Njie, Social Enterprise Development Officer at CUSE
One business CUSE have supported through the pandemic is Proof Bakery, which joined them on the Roll of Honour.
CEO Chernise Neo, who set-up the artisan bakery that trains and employs refugee and migrant women in Coventry, saw her business survive, thrive and support the community by delivering fresh food to the city food bank.

CUSE have cheered us on and found ways to proactively support us from the start.
I set up this business because of a desire to support refugee women - many of whom were already incredibly skilled bakers, but who had lost everything - to find work, and the sense of autonomy, dignity and fulfilment that work brings.
The jobs, further education or other positive next steps that the women go on to after training with us are key in helping them rebuild their lives.
Covid-19 was a massive challenge for us as 11 of our 13 community collection points in public buildings closed overnight. That meant we were left with virtually no distribution network. We quickly rolled out home delivery boxes in response.
We now further help the local community by baking 500 loaves a week for people in food poverty.


CEO of Proof Bakery Chernise Neo
If you would like to get involved with CUSE, contact the team.