First ever CU Scarborough apprenticeship students graduate with outstanding results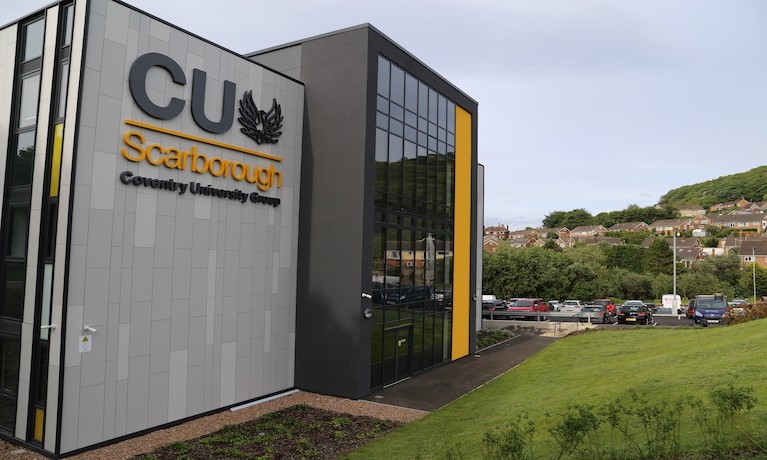 ---
Friday 08 January 2021
Press contact
---
The first ever cohort of digital and technology solutions professional apprenticeship students at CU Scarborough have graduated with outstanding results.
Coventry University teamed up with North Yorkshire County Council to combine academic education with industry-based practice to deliver the new course at their campus in Scarborough.
The graduates are all employees of North Yorkshire County Council, the largest regional council in England. They were identified for the programme thanks to the partnership work between CU Scarborough and the council, building pathways from education into training and employment.
They combined their academic studies with their roles at North Yorkshire County Council in several different areas including schools ICT, technical architecture and solutions, software development, systems administration, business analysis and technology infrastructure, offering them a wide range of experience during their time on the programme.
Their three-year academic tuition meanwhile similarly covered a diverse range of key topics relevant to the digital technology industry. Notably, their final module involved the planning and implementation of a business project from end to end, which enabled the students to immerse themselves in the subject matter and understand the vast complexities of their industry.
As an integral part of the Coventry University Group, CU Scarborough offers a flexible style of education designed to fit around the personal and professional lives of students outside the classroom, with a wide range of career relevant courses available, and study programmes delivered at a pace tailored to suit the individual.
I am delighted with the outstanding success of our first cohort of digital technology and solutions professional apprentices. This has been achieved through a combination of high-quality teaching from our academic team, the support and collaboration with North Yorkshire County Council and the students' dedication and hard work. The advantage of our apprenticeship degrees is the real-world relevance where theory is applied to work practice, which I believe further supports student success.
CU Scarborough students benefit from a modern, forward-thinking higher education institution, reinforced by the quality and reputation of Coventry University.
Throughout this course I have developed immensely on a personal and professional level with full support from my co-workers and the technology and change leadership team. Being able to work within all the teams within technology and change has given me a wide understanding of how the service comes together and has primed me to follow a number of career paths.

Overall it has been an excellent experience being able to blend theoretical and practical learning, which has equipped me with the skills and understanding to pursue a career in technology.
Apprenticeships offer a wide range of career opportunities for all ages, for new and existing employees, and embed a culture of development at all levels. We have employees studying on 38 different apprenticeship programmes across the workforce, with 348 apprentices employed in the workforce since April 2017.