Coventry University showcases adaptation of health courses through pandemic to Health Education England Chief Executive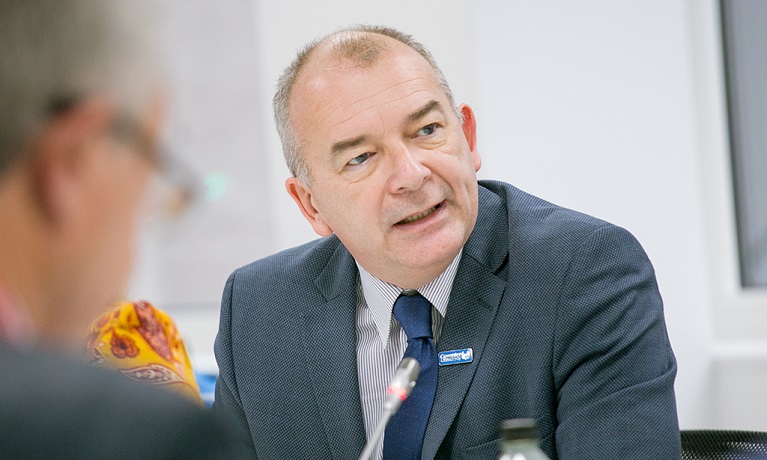 ---
Friday 18 June 2021
Press contact
---
Coventry University is expanding the use of virtual simulated placements to help solve a growing recruitment crisis for the NHS - with the help of extra funding from Health Education England (HEE).
The funds will seek to accelerate the speed at which online placements can be delivered across all of the university's pre-registration courses.
Navina Evans, chief executive of HEE, joined the university via Microsoft Teams to see for herself how its Health and Life Sciences (HLS) faculty is addressing the nation's need to produce more health professionals by changing the way it is training its nurses, midwives and allied health professional students.
Our strong and versatile response to the COVID-19 pandemic has been boosted by the specialist input we have within the Coventry University Online team, which has been instrumental to our ability to provide a blended approach to learning. We have to be innovative because we are so committed to growing our healthcare provision to meet the growing needs of the NHS as a result of the pandemic. There currently are not enough of most healthcare professionals to deliver what NHS trusts need and we really want to help.

Professor Rob James, Dean of the Faculty of Health and Life Sciences at Coventry University
Navina was given a glimpse of how the university will use Artificially Intelligent patients in future placements, heard about how the university is planning to address the psychological implications of the pandemic in the School of Psychological, Behavioural and Social Science and gained insight into how HLS students and patients experienced health education during the pandemic.
It has been fantastic to hear how Coventry University are using the funds awarded by HEE to implement innovative technologies which enhance education and increase capacity. I also really enjoyed speaking to students and hearing about their experiences of online learning and placements over the past year. A real highlight for me was hearing from service users about how they are a deeply involved, supported, and respected part of decision making at the university. This is something I want us to do more of at HEE and it was great to see such a successful example of integrating the service user voice.

Navina Evans, Chief Executive, Health Education England
The university is also diversifying its education provision to provide apprenticeships, pre-registration Masters degrees and blended learning courses to enable more people to pursue careers within the healthcare sector.
We are leading the way in innovative, forward-thinking approaches to health education and we are challenging ourselves to analyse how things need to change moving forward in light of the pandemic. It is clear that the way to meet the demands of our health and social care partners is going to be to think differently about how we educate our future health professionals. We are endeavouring to deliver across far more of the UK's regions, including Yorkshire, London, the South East, the whole of the Midlands and beyond as well as adapting our teaching methods to help meet the needs of the NHS.

Professor John Latham CBE, Coventry University Vice-Chancellor
If you want to join the NHS, see how you can start your career at Coventry University with our courses.