Coventry University graduate now working for global firm urges students to remain calm through Clearing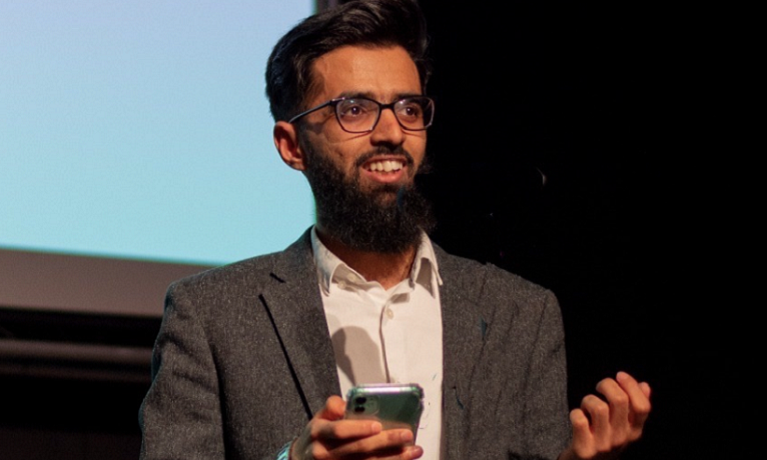 ---
Wednesday 11 August 2021
Press contact
---
A Coventry University graduate who came through Clearing and is now working for one of the world's biggest corporations says students should have faith in themselves as they go through the process of finding the right university course for them.
Financial Economics BSc (Hons) graduate Arsh Shaikh now works as a tax associate for PwC, the global accounting giant that operates in over a hundred countries across the world, whilst also running his social e-commerce business.
Arsh points to his own Clearing experience as encouragement to students looking for university places to keep calm and have faith that it will work out for them. After missing out on his first-choice university back in 2016, Arsh called Coventry University whilst on holiday abroad and within the space of 24 hours, the North Londoner had booked his place on the Economics degree course that would eventually see him join PwC.
Going through clearing is not going to be easy but have faith in yourself, and talk with your family and friends whom you trust and know that they will support you. One thing that is vital is that you listen to solid advice from someone who has the experience and is in the place you are wanting to be in.

Arsh Shaikh, Coventry University alumnus and tax associate at PwC
Working at PwC has given Arsh the opportunity to build strong relationships with both colleagues and clients and expand his network as he works with people from all different offices in the UK as well as teams from the US, Sweden and Germany, among others.
My university experience played a huge role in everything I do currently and will always do because I learnt so many things there. Being senior course representative and Student Council chairperson taught me to speak to senior management with confidence and how to clearly get my points across. This was a huge advantage for my role as a tax associate as it has allowed me to confidently share new ideas and get support from senior staff when needed. It allows me to perform well in my role and provide great client service.

Arsh Shaikh
Arsh also runs a social e-commerce business focusing on Fast Moving Consumable Goods (FMCG) products within the major industries of health, sports and nutrition, beauty and body care, and home care, whilst working full time and studying for a professional qualification.
He credits Coventry University's diverse community with preparing him for a role with a global firm as his student experience enhanced his understanding of different cultures and religions. It allowed him to connect with people, building relationships and trust, which is a vital part of the workplace.
If you would like to study with Coventry University this year, visit the Clearing hub for more information or call the clearing hotline on +44 (0)24 7688 8888.