Coventry University graduate lands dream job with BBC Sport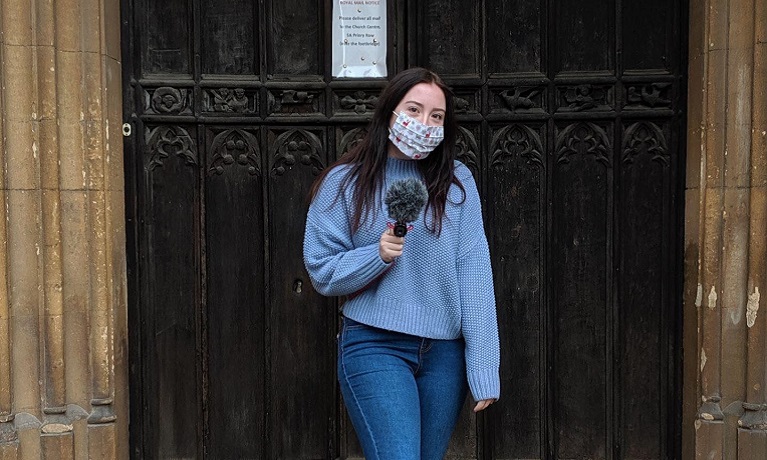 ---
Thursday 02 September 2021
Press contact
---
A Coventry University graduate who dreamt of becoming a sports journalist as a schoolgirl has landed a job as a journalism researcher with BBC Sport.
Katie Stafford, from Coventry, completed a BA (Hons) Journalism degree this year and has had an eventful first summer, starting her new job in time to work on the BBC's coverage of an exciting series of live sporting events, including the Tokyo 2020 Olympics.
Despite the stress and uncertainty of lockdown, Katie pressed on with job applications and shortly after finishing her degree, she secured a job with BBC Sport in Media City, Salford. No sooner had she started her new job than she found herself covering a bumper summer of live sporting events that included Wimbledon and the Euros.
Joining BBC Sport during the busiest summer of sporting events was challenging but so exciting. Working in the Wimbledon team allowed me to have first-hand gallery experience of how streams are used and the links between broadcast and online. The buzz from working in live sport is second to none and this was the first moment I thought 'wow I'm actually here!' But there's no rest in sport and as soon as we had Wimbledon out of the way, we were in full Euro's swing. The BBC Sport website attracts hundreds of thousands of views a day and during the Euros we hit our peak audience. I was fortunate enough to work on the live blogs for the Euros, and this meant producing build up content, team news, interviews, and fan reactions. The further England progressed the more I fell in love with this.

Katie Stafford, journalism researcher, BBC Sport
The Tokyo Olympics quickly followed, and Katie was right in the thick of it, working unusual hours because of the time zone difference between Japan and the UK. She learned to write and broaden her knowledge about new sports like canoe slalom and the modern pentathlon whilst helping to deliver minute-by-minute updates on the races, games, and events.
After completing her A-levels at Ernesford Grange Community Academy in Coventry, Katie chose to study journalism at Coventry University as she was impressed by its industry standard radio and TV studios.
An avid news and current affairs follower since her early teens, Katie's passion for sport and love of writing settled her mind on sports journalism as her ideal job. One of her sixth form teachers who was a former journalist encouraged her to choose the BA Journalism (Hons) degree as it would train her to work in different areas of journalism.
During her university studies, Katie did freelance work with BBC Radio Oxford and BBC CWR, where she got the opportunity to apply the skills she had been taught on her course.