Coventry University Wrocław student selected to help organise model EU Parliamentary event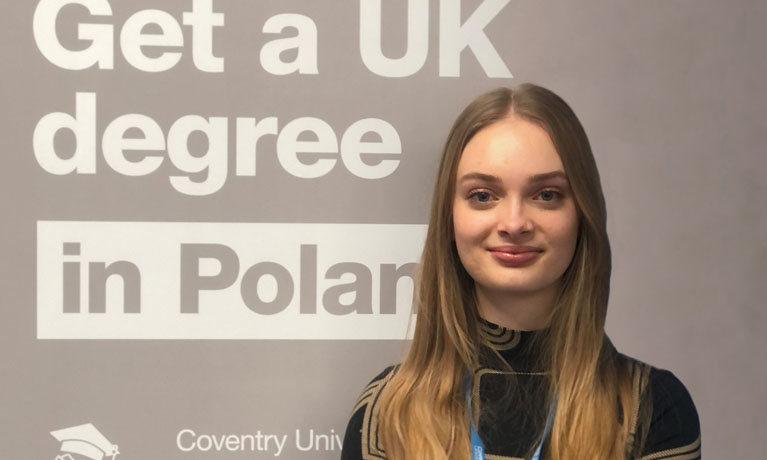 ---
Monday 18 January 2021
Press contact
---
A Coventry University Wrocław student has been selected to help organise the next Model European Union Strasbourg (MEUS), an immersive and inclusive simulation of the EU Parliament's legislative process by young people drawn from across EU member states.
Milena Kurtiak, a first-year BA Business Management and Leadership student at Coventry University Wrocław, successfully applied for a social media manager's role on the MEUS organising team.
Over one week, participants flock into the premises of the European Parliament in Strasbourg, France, to experience the most realistic simulation of EU decision-making on the continent.
The next event will be held in Spring 2021.
The organising team consists of dozens of young professionals and students selected from around Europe and beyond. Each member of the team has expertise in a certain area and should be passionate about creating a unique learning experience of the European Union which is educational, social and fun for participants.
MEUS participants are drawn from EU member states and given the opportunity to practice their skills as they simulate roles associated with the EU legislative process. They can choose to practice public speaking as members of the European Parliament or ministers in the Council of the European Union, develop their negotiation and writing skills as lobbyists, create news articles, video broadcasts and photographic portfolios as journalists, or apply their language skills as interpreters.
I decided to apply for the social media manager's role because it was the most relevant to my degree. The MEUS is a great opportunity for me to hone my skills and apply some of the learning from my course as I work with my colleagues to deliver an event that helps young people understand and appreciate how the EU Parliament works. Using video conferencing for our organising committee meetings also brings into focus the new realities that businesses and institutions have adjusted to in the wake of the COVID-19 pandemic, and I could not be more grateful to experience this in action.

Milena Kurtiak, student at Coventry University Wrocław
I'm delighted that Milena has had this opportunity early in her degree to help organise and deliver a high level event, in the process learning valuable skills and gaining experience in handling responsibility and delivering team goals. Managing social media for MEUS will help sharpen her effective communication skills, improve her understanding of decision-making processes, and challenge her to work under pressure as a team. This experience is relevant to her studies in business management and leadership.

Dr Jacek Lewandowski, campus director, Coventry University Wrocław
Visit Coventry University Wrocław's website to see the range of courses offered by, or to apply to study.