Coventry UK City of Culture Trust shares update on preparations, events and programmes for year of culture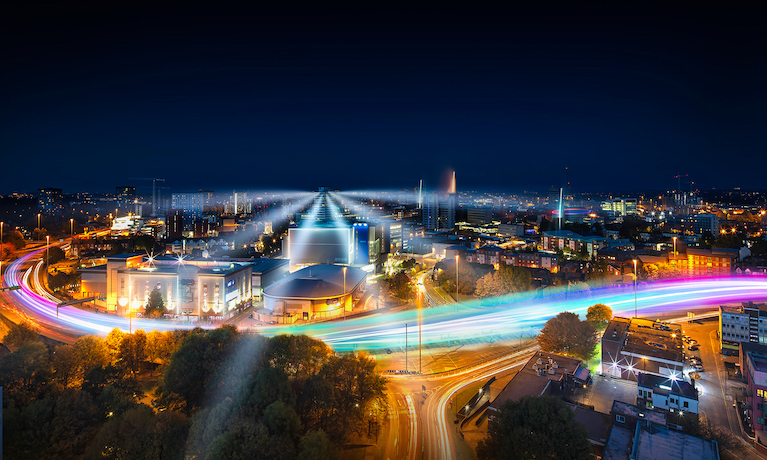 University news / City of Culture 2021
---
Tuesday 02 March 2021
Press contact
---
From the end of lockdown to the return of major events, Coventry 2021 sets out how it will pace and scale its programme in the coming months.
Coventry Moves, on 15 May, will be experienced as a collective moment in Coventry and around the UK, kick-starting a cultural movement as restrictions lessen.
Coventry is ready to welcome visitors, as prospect of city breaks and day trips return.
Today, Tuesday 2 March 2021, Coventry UK City of Culture Trust shares an update on preparations for its year of culture, which starts on 15 May 2021 and runs for 12 months.
While the country continues to face major challenges, Coventry City of Culture Trust and its partners have announced further details of the programme as the UK moves toward a phased road to recovery.
Coventry has always been a symbol of rebirth. Of movement. Of hope. It is the city that rose from the ashes of the Second World War, a city that rallied through music when others were divided. This year, of all years, it will summon that same spirit and encourage audiences to celebrate the city, its residents and its place on the global stage.
As the first major cultural programme of its scale, breadth and length to commence since the arrival of the pandemic in March 2020, it will start under restricted conditions and phase its events as the loosening of restrictions in the UK takes place.
An opening, epic, city-wide moment, Coventry Moves, heralds the start of the year on 15 May. An audacious day full of extraordinary surprises, it will be experienced in the city and around the UK from home, from dawn to dusk. Coventry Moves will provide a playful and engaging introduction to Coventry, its stories and its people. The creative team behind Coventry Moves are Justine Themen, Director; Ruby Pugh, Designer; Mydd Pharo, Wildworks, Visual Dramaturg; Jenni Jackson, Movement Director; Benjamin Burrell, Music Director; Dan Jones and Composer (Collective Moment). The team also includes five Creative Associates - Hannah Beck, Sebbie Mudhai, Marius Mates, Sibongile Mkoba and Hazel Mcintosh – who were originally involved in the Young Creatives Programme and will be mentored throughout the delivery process.
As restrictions ease, a Summer of Surprises will allow citizens, and visitors once restrictions ease, to enjoy events, experiences and culture once again.
In today's announcement the Trust, and partners involved, reaffirmed their commitment to delivering on their promise. To build and deliver a wide ranging, innovative and entertaining year-long programme and secure a longer term legacy by transforming the city and supporting its diverse cultural sector to thrive. Coventry UK City of Culture will present new perspectives by giving voice to those seldom heard, encouraging action and engaging with new and innovative technologies.
All events are being planned in a flexible and responsive way, to allow them to be presented throughout 2021-22 in line with the guidelines at the time they take place.
Coventry City of Culture Trust reaffirmed its commitment to present several major and ambitious undertakings, previously announced last year. These include Terry Hall presents Home Sessions (July 2021), curated by the lead singer of the iconic Coventry band The Specials, in a weekend of music and arts that blends international legends with contemporary pioneers. Along with CVX, a radical three-day arts activism festival curated by young people in the city with Positive Youth Foundation and the rapper JAY1 (Aug 2021), these will be some of the first music festivals presented in the UK under the government's roadmap out of lockdown.
The Walk (27 October) will see a 3.5-metre-tall puppet of a young refugee called Little Amal voyage 8,000km from the Syria/Turkey border, across Europe and into the UK. Previously due to arrive in Coventry during summer, Little Amal will now arrive in Coventry in October. It is a poignant and symbolic moment in The Walk, as Little Amal is welcomed into Coventry - a city of sanctuary and a city of welcome - by a participatory event designed with and for the local community. The Walk is a Good Chance Theatre Production (UK) in association with Handspring Puppet Company, Cape Town (South Africa). Produced and presented in Coventry by Coventry City of Culture Trust.
Coventry UK City of Culture 2021's Principal Partners are Coventry City Council, West Midlands Combined Authority, Department for Digital, Culture, Media & Sport, Arts Council England, National Lottery Heritage Fund, Spirit of 2012, Warwickshire County Council, The University of Warwick, Coventry University