Coventry University graduate receives glowing reviews on debut novel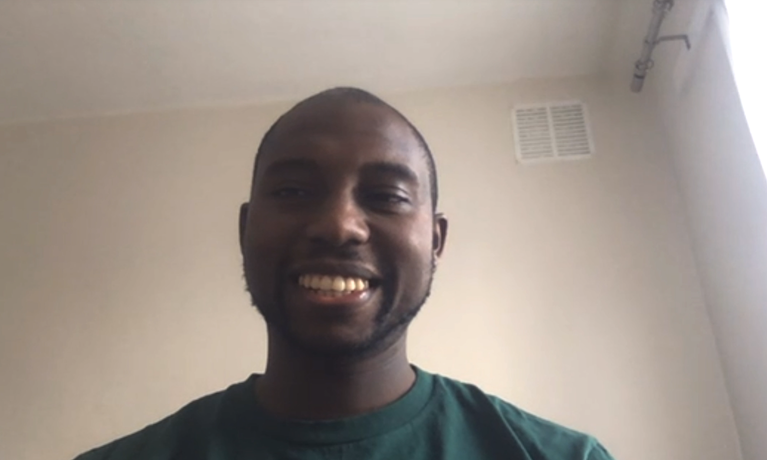 University news / Student news
---
Thursday 04 March 2021
Press contact
---
Coventry University graduate Caleb Azumah-Nelson says he was "emboldened" by his university experiences as his debut novel Open Water was released to rave reviews.
Despite studying Sports and Exercise Science, the 27-year-old was a member of the creative writing society at Coventry University, where he developed his skills and passion for storytelling.
Open Water is a love story about a young couple in South East London, with a particular focus on what it's like to be young and Black in modern British society. A photographer and a dancer meet in a bar establishing an immediate connection and falling for each other, before going on to negotiate their relationship through distance and time.
It has been published by Viking, an imprint of Penguin Books, which has also published books written by the likes of Michelle Obama and John le Carré.
Before I got to university I knew that I wanted to write and being at university you're doing your course but there's also the time and the space that you need to do the things you enjoy most. So a lot of my time at university was spent writing in bookshops and at the library and I'm really grateful for that time because it solidified what I'm doing now.

I feel like the relationships I built with people at Coventry University including lecturers, my peers and the community there emboldened me and helped me along. I'm really grateful to have had a wider family around me, who weren't necessarily blood but are still my family.
The book took inspiration from Caleb's key passions including music, photography and art and is now on sale with a range of leading retailers having received praise from a variety of writers.
Bestselling author Candice Carty-Williams has described it as 'a beautiful and powerful novel about the true and sometimes painful depths of love' while Ghanaian-American novelist Yaa Gyasi has paid tribute to the narrative, labelling it 'a love song to Black art and thought'. Nikesh Shukla, editor of The Good Immigrant has hailed Caleb as 'a star in the making'.
Caleb has been delighted with how the book has been received since its release, and is now hoping he can use and adapt his skills and creativity to diversify his career into new areas whilst continuing to write.
The reception the book has received has been enormous and I'm so grateful for it. I'm really looking forward to the rest of this year to see how it develops a life of its own. I will be writing my next book in the next few months as well as hopefully working my way towards working in film and television which I'm really excited about.

I've done screen writing in the past and it's something I feel I've always had an eye for. I got the chance to direct the trailer for Open Water and now I feel like I've got the bug for it – I would love to be able to direct my own film or TV show in the future.