Coventry University solicitor keen to continue to give back after award win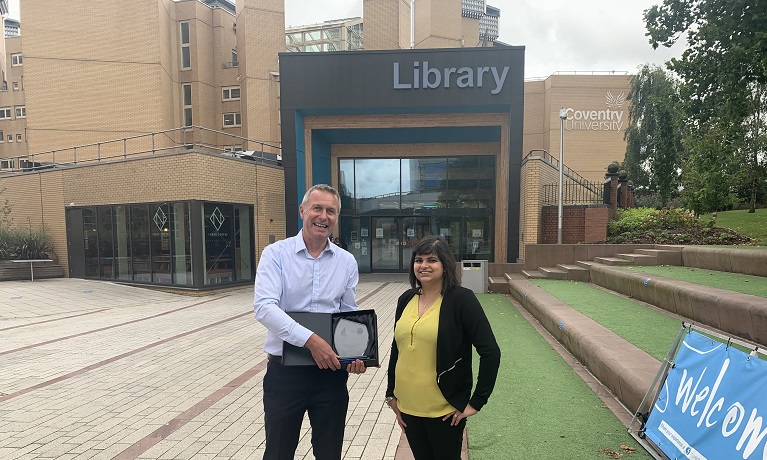 ---
Tuesday 19 October 2021
Press contact
---
A Coventry University solicitor named Coventry & Warwickshire First's Young Professional of the Year says she wants to continue to help inspire more young people to pursue a career in law.
Arran Kaur took the crown at the forum's FirstPro 2020 awards due to her legal work for Alsters Kelley Solicitors Limited and community and mentoring work. She is an elected board member of Birmingham Medico-Legal Society and board member of Coventry and Warwickshire Chamber Talent.
The 30-year-old, who is from Coventry and joined Coventry University's legal team last year, now hopes to continue her work to help others in her role at the university.
I am glad that my determination and passion to give back to the community was recognised by the judges.

"I have worked extremely hard during my education and my career to get where I am today, so it's wonderful to have my hard work recognised.

I've always been quite rooted in helping people.

I am involved in a lot of networking groups and want to help people - whether it is our young professionals or wider groups.

I've been involved in mentoring schemes, and I just want to make a career in law more accessible for everyone. I think being involved in networks and societies helped me progress my knowledge and social skills alongside my studies.

I bring that outside knowledge to the work I do. My job at the university is very varied, it is very student focused and I have continued to try and help people with my community work.

I give back to the community by volunteering my time and I want to help people have the same, or better opportunities that I did.

Coventry University solicitor Arran Kaur
Coventry University Provost Ian Dunn is delighted to see Arran's community engagement.
The university is delighted to be able to support people in all sorts of ways to engage in community related activity. We are immensely proud that Arran has been recognised with this award.
For Jon Wilby, Chair of Coventry & Warwickshire First, it was that desire to give back to the local community that made Arran stand out from the crowd.
What we were particularly impressed with about Arran was her determination to get qualified and all the hoops she went through to achieve that, her motivation to want to help people and her attachment to Coventry and the local area.

Jon Wilby, Chair of Coventry & Warwickshire First
Find more information about the FirstPro 2020 Awards.