Apprenticeship graduate's message of hope to others after tough start in life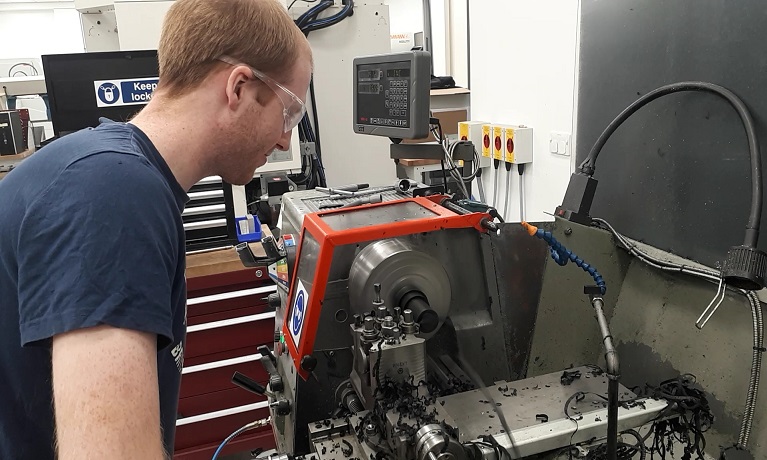 ---
Monday 22 February 2021
Press contact
---
A Coventry University apprenticeship graduate says his underprivileged start in life no longer defines his future in a message of hope to aspiring apprentices.
Lawrence Powell (pictured) is one of 13 product design and development apprentices employed by the UK engineering firm Renishaw who have graduated from Coventry University – the first group to do so via this route.
He defied his underprivileged background to turn his teenage passion for engineering into a professional career.
I didn't get a great start in life – I was one of four children raised by a single mother who was unemployed. But at 13 I discovered a passion for engineering and realised this could be my way to earn a living. I started building things - bikes, multi-gyms, and so on – and it turned out I was quite good at it.

Lawrence Powell, Product Design and Development apprentice
After trying out other career options, Lawrence returned to engineering and successfully applied for the apprenticeship scheme at Renishaw. He faced off personal challenges in his apprenticeship journey and is now the proud holder of a 2:1 BEng (Hons) Mechanical Engineering Design degree.
Thanks to this apprenticeship, I'm now finally in a position where my start in life can no longer define how it ends. I have the tools to open many doors and my future is whatever I chose to make of it. Apprenticeships are an excellent method of gaining higher qualifications without incurring debts. To aspiring apprentices, don't be discouraged if you come from an underprivileged background, because through these routes anybody can succeed if they put the effort in.
The students completed their Level 6 apprenticeships and attained BEng (Hons) Mechanical Engineering Design and BEng (Hons) Automotive Engineering Design degrees.
Renishaw is one of the world's leading engineering and scientific technology companies, with expertise in precision measurement and healthcare. In partnership with Coventry University's Faculty of Engineering, Environment and Computing, the firm recently introduced the scheme to give employees the opportunity to progress and develop at degree level, gaining valuable transferable skills and broad engineering knowledge.
Renishaw is incredibly proud of our apprentices and what they have achieved. Their degree results are testament not only to their hard work and dedication – studying for a degree while performing and developing in their roles is no easy task – but also their passion for engineering. Renishaw and Coventry University have a good, collaborative relationship. The university has been flexible and adapted to our needs and has supported us all at every step of the journey.

Julia Russell, apprentice lead at Renishaw
We extend our warmest congratulations to our students, who have demonstrated a great capacity for hard work, consistency and discipline. Our partnership with Renishaw combines their expertise in engineering with our global reputation for business-focused research and teaching, and together we look forward to producing more product design and development graduates.

Wendy Garner, head of the School of Mechanical, Aerospace and Automotive Engineering, Coventry University
Further information about Coventry University's engineering apprenticeships is available on the university's website.