Works on exciting city centre project kick off at Coventry University's iconic James Starley site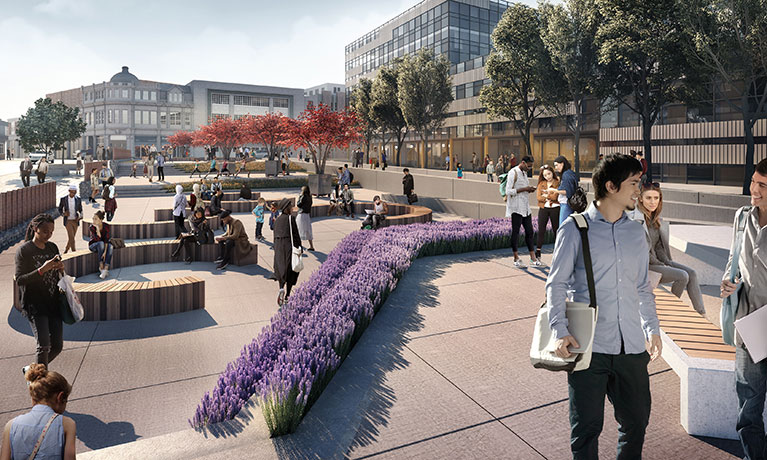 ---
Tuesday 20 October 2020
Press contact
---
Construction work is underway to transform part of the iconic James Starley site within Coventry University's city centre campus into a new and exciting open space.
The £2million scheme, designed by Broadway Malyan, will see the now demolished James Starley building replaced by new pedestrian areas, landscape gardens and places for residents, students and visitors to enjoy– adding vitality and green spaces into this area of the city centre.
Not only will the new and improved site provide opportunity for physical activity in the city, it will also have the capacity to host a variety of cultural events all year round, bringing activity and excitement to the campus, while helping to improve the social wellbeing and health of the local community.
The works are being carried out by specialist landscape contractors Killingley. Gardiner & Theobald and Aecom have also played significant parts in managing and organising the project.
We are proud to be part of Coventry's ongoing regeneration and are delighted to announce that work has started on this exciting eco-friendly landscaping scheme, which will benefit students, staff and the wider community. Starley Gardens will provide a tranquil zone promoting wellness in the heart of the campus and Coventry's city centre, as well as maximising the magnificent view of Coventry Cathedral from other university buildings.

Professor John Latham CBE, Coventry University Vice-Chancellor
I'm delighted that Broadway Malyan have played a part in helping to create such an important public space in the heart of the city campus at a time when demand for quality outdoor and green areas, where people can walk, stop and safely meet friends and family is now more important than ever.

Through our ongoing partnership with Coventry University, we are really excited to see work begin on yet another stunning scheme that will help to improve the social and educational experiences of students, and enhance the growing cultural offering at the heart of the city.

Danny Crump, Director of Urbanism at Broadway Malyan
Having already worked together on the impressive Beatrice Shilling building and the state-of-the-art science and health focused Alison Gingell building, Coventry University and Broadway Malyan are also planning to reinvigorate the city's former civic centre site. This will provide a new civic function that complements the history of the Council House, whilst also bringing the site's Medieval basement back into use.