Coventry University appoint 50 student ambassadors to safeguard people on campus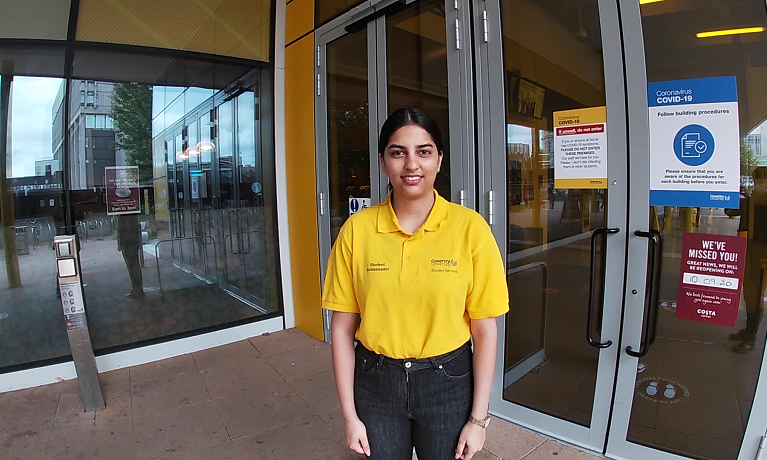 ---
Monday 05 October 2020
Press contact
---
Coventry University has stepped up its efforts to protect and safeguard staff, students and other visitors on campus with the recruitment of student ambassadors.
Fifty students have been given ambassador roles and will be located in several different areas around the campus to help inform, educate and assist those on site to follow the new rules and regulations in place, designed specifically to minimise the transmission of Covid-19 on campus.
The student ambassadors have been given clear information, training and guidance on how their roles and responsibilities will work.


They will have a range of responsibilities including pointing out hand sanitisers and safety signage, reminding those on campus to follow physical distancing rules and advising people of Coventry University's new safety measures and regulations.
They will also be issuing lanyards to those arriving detailing who can and cannot be inside university buildings at specific times.
Student ambassador Anshda Bhatnagar said the university has left no stone unturned in preparing her to take on the new role.
We've been given tremendous training to provide the right measures and protection to all of the staff and students coming in. We've been given all kinds of training and briefings as to where we should place everyone.

We have a wide range of safety equipment to protect everyone on campus including ourselves, and we'll be positioned in various locations across campus to give fellow students the necessary support with staying safe.

Student ambassador Anshda Bhatnagar
The university has come up with a traffic light system designed to limit the number of people entering campus buildings at any given time.
As part of the system, student ambassadors will hand students coloured lanyards upon their entry into university buildings. Each colour is associated with a specific time slot, within which students with the relevant lanyard colour are permitted to access buildings.
We always have student ambassadors but this year their role has been enhanced and the purpose is to support and welcome students to Coventry University and to give additional guidance in very unprecedented times due to Covid-19.

It's a worrying time for many students, so we wanted a friendly approach to supporting them, encouraging social distancing, safely guiding them to the right buildings at the right times and ensuring they follow the updated relevant safety rules.

Coventry University's Interim Group Director of Estates Michael Ricketts