Paramedic student who self-isolated to help on the NHS frontline urges other students to do their bit in fight against COVID-19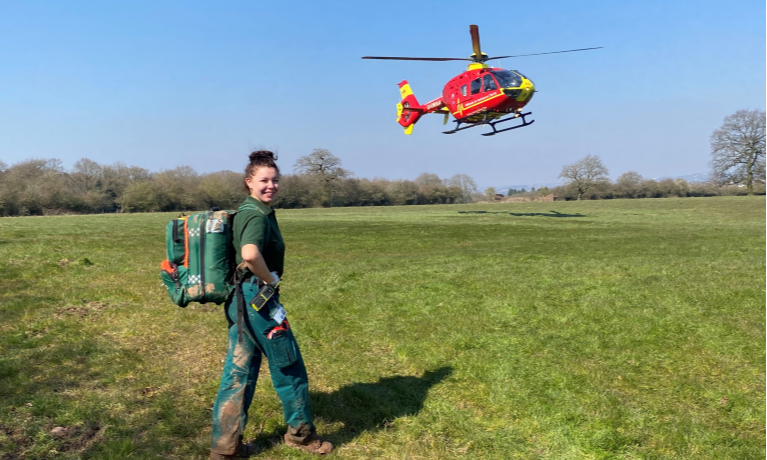 ---
Thursday 01 October 2020
Press contact
---
A Coventry University student paramedic who made enormous sacrifices to join the NHS fight against COVID-19 is calling on fellow students to play their part by sticking to the guidelines to help prevent the spread of the virus.
Sophie Bassi self-isolated herself from her young son and husband after answering the call to help relieve the pressure on West Midlands Ambulance Service when the COVID-19 outbreak started to peak in March.
Sophie, 29, from Coventry, was one of about 50 student paramedics who had previously worked with WMAS on placements that joined up to help and says the risks and sacrifice were worth it. Hundreds more students from around the Group joined the ranks of the NHS around the country.
Now a qualified paramedic, Sophie is preparing to start a full-time role with WMAS and says "everyone just needs to pull together" to combat the virus on campus and in the community.
Lots of safety measures have been introduced across Coventry University and CU campuses and accommodation, but it comes down to individual responsibility to stick to the guidelines on social distancing, hand washing and face coverings.
Obviously at the start, we didn't know how long it would go on for or the severity. Not only did we all choose to get on board help, do our best but we also had to complete the course and secure our paramedic positions.

I was very careful. I had my little boy at home and I was taking everything off before I went into the house. At one point I was coming home, going straight upstairs into the spare room and having no contact with my family.

I was too worried. I did not want them to get the virus.

I would ask other students to take guidance seriously. It is most definitely a real thing.
I know it might be difficult to put it into perspective or imagine it if you haven't seen it with your own eyes but it is real and things have been tough.

Students just need to do their bit and follow the guidelines, be cautious, be vigilant, and think about all of those people that unfortunately have lost their lives due to this virus.

Everyone needs to pull together as a community at Coventry University

Everyone in their cohort or course, living in the accommodation are all in the same position.

Make use of Microsoft Teams, of Aula, WhatsApp Groups, the online platforms. Stay connected and know that you are still able to make friends.

Use this first year to fully smash the course and use it as a year to fully focus on your education due to lack of the normal first-year distractions.
Sophie said the support for key workers made a real difference and gave the utmost support.
When everyone clapped on a Thursday, it made me so proud to do the job.

I remember one night shift we were coming out of one of the hospitals in Birmingham and it was really busy. We left in the ambulance and everyone was outside with their pans, flags, everything, it just gave you a sensation that made you glad that people appreciate you.
Sophie was the first in her family to go to university and praised Paul Corns, Course Director Foundation Degree in Paramedic Science, and Steph Coles, Assistant Professor Paramedic Science, for diagnosing her dyslexia and helping her succeed with the course.
I started the course with an 11-week old baby. Everyone said to me at the time, how are you ever going to do a full-time course, go on placement, do a degree, be a new mum?

People said the baby will get up all night and I thought no, he won't. He will be fine. I will be able to do it, I need this opportunity for our future.

In the end, he did get up all through the night, he virtually did not sleep for 18 months and it was the most challenging and hardest two years of my life.

I don't know now, looking back, if I could do it again emotionally and physically, knowing what I know now, without the support of people like Steph and Paul.

Steph supported all of us students through the whole pandemic, worked on the frontline herself and was a lecturer.

In my opinion, she is like a superhero. Without her I don't think I would have been able to get through it.

I had no idea I was dyslexic. I just thought things did not go in right. I told Paul how I felt and he said need to get tested and was able to point me in the right direction.

Hands down they are a credit to the university, this the best university I could have gone to.