Sketchbook: Coventry University City of Culture project thrives during lockdown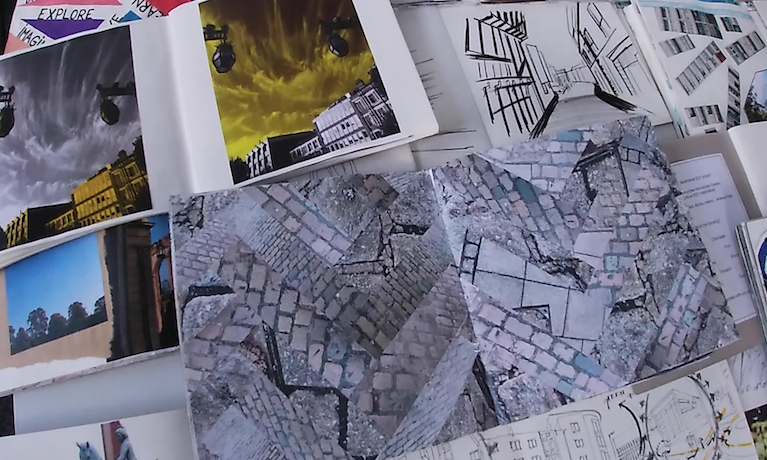 University news / City of Culture 2021
---
Tuesday 24 November 2020
Press contact
---
A Coventry University project designed to get people drawing and painting as part of UK City of Culture 2021 celebrations took on a new dimension amid the coronavirus pandemic.
Unlike many other aspects of life which have been hampered by lockdown, the Coventry Sketchbook 2021 project, through which the university is sending 2,021 sketchbooks out to the local community, has gone from strength to strength – even helping to boost people's mental health and wellbeing.
Inspired by the famous Brooklyn sketchbook project, the university has been distributing the sketchbooks in and around Coventry free of charge.
The university's school of art and design launched the project to challenge the public to fill the books with drawings and paintings of the city, documenting their creative visions of Coventry, giving them the opportunity to play their part and put their personal stamp on next year's celebrations.
Several hundred completed sketchbooks have already been sent in to the university, with a wide range of bespoke designs incorporating various city landmarks including Coventry Cathedral, the Coventry Canal Basin and much more.
As one of the key project leaders, Lindsey Chambers has been delighted with the response, explaining how producing unique sketchbooks has contributed to the city's togetherness and wellbeing through a difficult period.
When we set this project up one of the most exciting things was how many people were interested from all walks of life. We have university students, community groups and craft groups doing it, we've worked with local schools and people have been really willing to take part.

Because we set this project up before the Covid-19 pandemic, people have used these books as a resource to help with their wellbeing and that's been really exciting for us.

Lindsey Chambers, Coventry Sketchbook 2021 project lead
The project was boosted by its launch at the 2019 Godiva festival, where staff and student ambassadors introduced people to the concept, aiming to get as many local communities involved as possible.
Once all of the completed sketchbooks have been collected, there are plans to showcase the project and artwork in and around Coventry's libraries in the year of 2021 and beyond to mark Coventry's collective creativity, solidarity and togetherness through difficult times.
More information on Coventry University's sketchbook project.