Schoolgirls thank COVID-19 NHS heroes by raising thousands of pounds to train a Nursing Associates student at Coventry University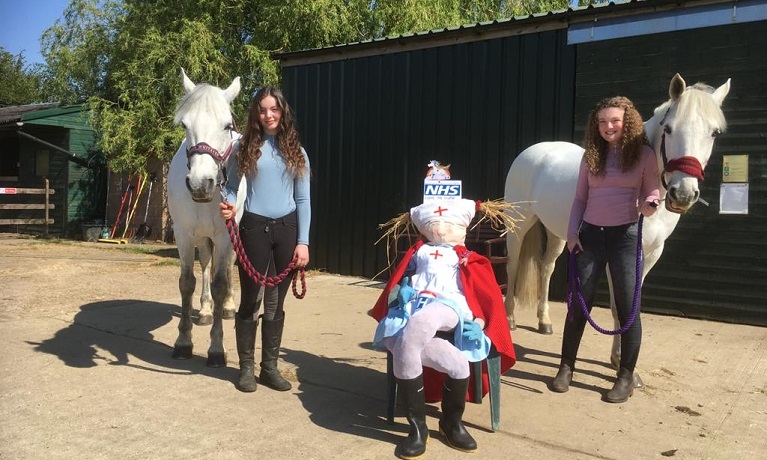 ---
Tuesday 22 September 2020
Press contact
---
Two Coventry schoolgirls who wanted to thank our NHS heroes for working through the COVID-19 pandemic have raised thousands of pounds to help train a local Nursing Associates student at Coventry University.
As the streets and social media were awash with pictures of rainbows in support of the NHS this summer, best friends Thalia Porretta, 14 and Frankie Ward, 15, used their time away from the classroom during lockdown to go one step further and build a NHS nurse scarecrow.
The girls then raised £2,500 by launching a competition to name the scarecrow, which was displayed in Allesley village.
The creation is now called 'Mother' and the money they raised will be used to fund a bursary to help a student from Warwickshire, who will be starting their NHS journey on the new Nursing Associate Foundation Degree at Coventry University this month.
And the girls hope the recipient of the funds will keep in touch and share their story.
During lockdown we spent a lot of time at the stables looking after our horses and we wanted to create a positive from the COVID-19 pandemic that would be far-reaching for future generations and that would have a direct positive benefit for the NHS.

We decided to raise some money by using some spare straw to build a NHS scarecrow and we want to say a mightily massive heartfelt thank you to everyone who got behind us and dug deep to help the NHS.

We hope that the successful applicant of the bursary will be in touch also that they will be able to share our fundraising story with their future patients of how they were helped on their NHS journey.

Thalia Porretta and Frankie Ward
Thalia's grandmother Coventry's official Lady Godiva Pru Porretta MBE explained why they selected the Nursing Associates course.
This is a course that does not currently attract any government bursary support and as such the money raised will be really well received by a new student. The aim is to not only help the NHS get even stronger and invest in the next generation but to help a local student get their foot on the ladder and become one of our NHS heroes.

Due to the phenomenal amount of names received, a winner was picked out of the hat randomly and the nurse has been named "Mother". We feel this is really fitting as all of our NHS nurses have selflessly cared for all throughout the current pandemic.

Coventry's official Lady Godiva Pru Porretta MBE
The girls have shown what determination and vision our young people have in the face of the extraordinary and difficult challenges of this epidemic.

I love the fact that they really thought about what would have the most impact, not just for now, but for future generations who will use the NHS.

Their choice to support a Nursing Associate student has touched me very personally - people will know that this is very close to my heart, since I pioneered the Nursing Associate role in the NHS just a few years ago.

It's so gratifying to see our new addition to the nursing family continuing to grow and flourish and become a reality across the country in this way.

Professor Lisa Bayliss-Pratt Pro-Vice-Chancellor of the university's Faculty of Health and Life Sciences
If you wish to apply for the bursary please email Deanne Dunstan.