Researchers helping romantics pick their flowers on Valentine's Day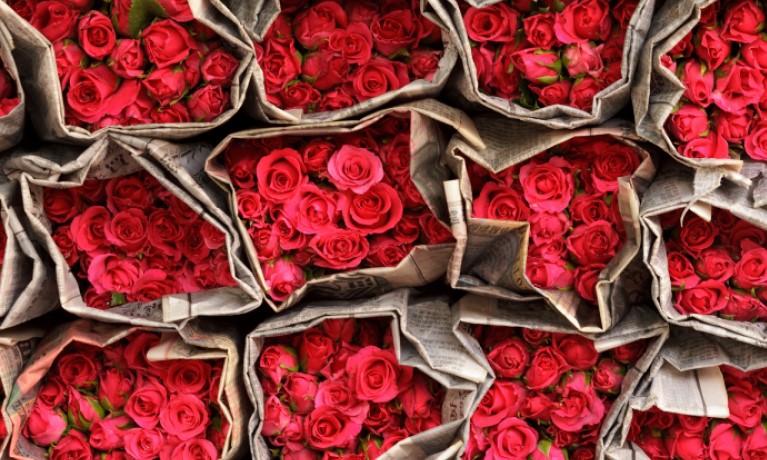 ---
Thursday 13 February 2020
Press contact
---
As the cut-flower industry is ramping up for Valentine's Day, researchers at Coventry University are offering advice for ethical romantics and florists to make more sustainable choices.
Across the world around 250 million rose stems will be produced for Valentine's Day, typically exported from countries with heat, space and cheap labour. Over 90% of flowers sold in the UK are imported, primarily from the Netherlands but also from African countries such as Kenya, Ethiopia and Tanzania.
The cut-flower market is worth over £2 billion in the UK and $55 billion globally. The researchers have released tips for people buying flowers on how to purchase carefully and a sustainability guide for the industry to promote better practices to benefit communities, the environment and workers.
Producing flowers, particularly on the scale needed around the world for Valentine's Day, has a high carbon footprint. Greenhouse heating, intensive water use and global transportation not only contributes to global climate concerns, but affects the communities in which flowers are grown with potential issues including health risks to staff from chemical use, lack of rights for workers and reduced water availability.
Dr Jill Timms and Dr David Bek have been researching sustainability in the cut-flower market for 10 years. The guides form part of a larger project looking into how changes in the sector could not only reduce the negative environmental and social impacts but produce more sustainable outcomes for people, the planet and economies.
This is a complex issue, and it doesn't necessarily mean that people should avoid giving flowers at Valentine's Day. Instead we are encouraging consumers to make an informed choice and suppliers to consider changes they can make to improve their sustainability.

Dr Jill Timms, from the Centre for Business in Society
Advice for both consumers and florists is to ask questions about origin and what different certification schemes mean for how flowers were sourced so they can make educated choices. They also encourage consumers to support local florists, particularly those which pay attention to their sustainability.
While the answer to the air-miles flowers travel may not be to grow some flowers locally due to the energy involved, buyers can choose locally-grown seasonal or organic flowers. They can also seek suppliers who support community development and rights for female workers.
Alternatives such as taking in your own vase or asking for recycled packaging to avoid use of cellophane or floral foam can also help, as well as recycling flowers as green waste once they start to wilt to make their journey worthwhile.
There are a number of steps that both consumers and those in the flower industry can take to make Valentine's Day blooms more sustainable. There isn't an easy answer to the problem, however the simple advice would be to ask questions about how your flowers get from the ground to your vase.

Dr Jill Timms
For more information please read the Guide to Sustainable Cut-Flowers.
Alternatively there is advice for consumers on Valentine's Day.