Coventry University Assistant Professor back on the NHS frontline in fight against Covid-19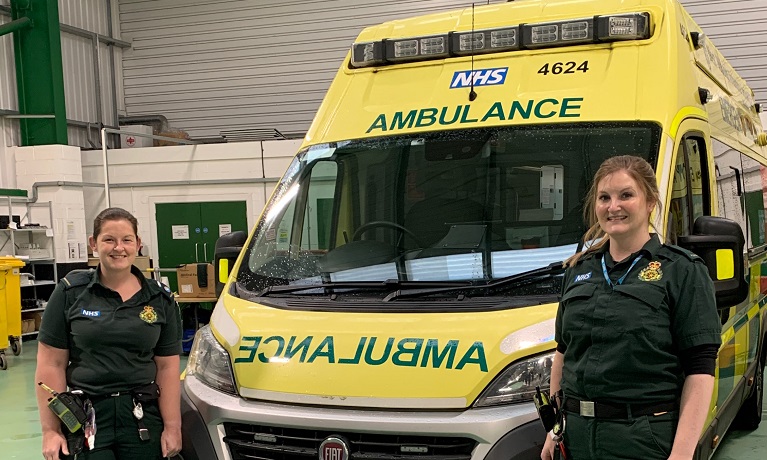 ---
Friday 18 December 2020
Press contact
---
Coventry University Assistant Professor Steph Coles is preparing for Christmas on the frontline as she continues to help in the fight against coronavirus – despite catching and recovering from COVID-19 herself.

Qualified paramedic Steph and colleague Shelley Evatt worked one day a week for West Midlands Ambulance Service (WMAS) before the pandemic.
As their students volunteered to take on ambulance care assistant roles, the duo also increased their hours, with Steph now working three days a week for WMAS.
Steph says the reason for her increased presence in the field is due to her duty to the NHS and her responsibility to support her Paramedic Science students.

I wanted to provide support to the Service and, as cheesy as it sounds, I wanted to be out there supporting the students too in these unprecedented times.

It was a sense of duty and it does keep you going knowing you are making a difference.

When I first came out of the Service to take a full-time role at Coventry University, I was conscious that I did not want to have my finger off the pulse for too long.

I think it gives you credibility. Before the pandemic being out on the road one day a week, in my normal time, was a lot about going back into practice to support the students.

I have worked with a few of them in their care assistant roles during COVID and they have made us all proud. They've shown excellent resilience during these times and this is a quality and experience that will support their future career as paramedics.


Coventry University Assistant Professor Steph Coles
Steph caught COVID-19 in March, during the first peak of the pandemic, and battled the virus for three weeks.
Once recovered she returned to work, and though she had a rough experience, she feels safe and secure on the frontline and at the university due to the safety measures in place.

I was quite poorly with COVID-19. I had three weeks of being symptomatic - severe headache, a temperature, sore throat. We are still going out and doing the job even though the risks are there.

The public need to keep following the guidelines and keep each other safe. They need to wear masks in public places but they should not be afraid of going to hospital if they have chest pains or if they have developed signs of a stroke. We are still treating emergencies and it is important that people seek help when they need it, don't leave it too late because you are afraid of COVID.