Coventry University to lead on global nursing development programme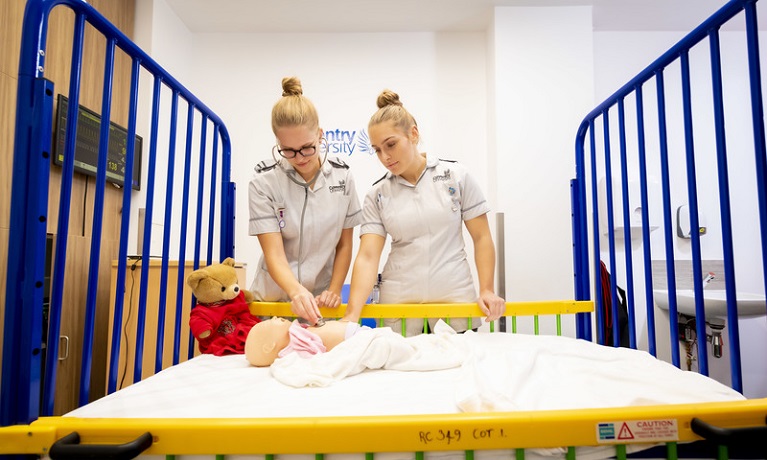 ---
Thursday 10 December 2020
Press contact
---
An ambitious programme aiming to provide leadership training for 100,000 nurses and midwifes in more than 150 countries by the end of 2022 will be led by Coventry University, in partnership with The Burdett Trust for Nursing.
The Nursing Now Challenge (NNC) will provide early-career nurses and midwives with opportunities for personal growth and individual leadership development, cultivating the necessary skills to become leaders, innovators, practitioners and advocates in health, locally, nationally and globally.
Coventry University's use of technology enables people to access education resources and collaborative opportunities regardless of geographic location. The programme will use social media to create networks of health professionals learning from each other's experiences and expertise across the world.
A key objective is to demonstrate to employers - and the wider global health community - the benefits of supporting and mobilising the next generation of nurses by sharing evidence of effectiveness of the Nursing Now Challenge leadership development programmes.

As a leading provider of nursing education in the UK we are very proud to work with organisations including Health Education England (HEE) and the Tropical Health and Education Trust (THET) to deliver this programme

It will have a significant impact, particularly in low and middle-income countries, supporting the development of the global health workforce and improving the health of people around the world.


Professor Lisa Bayliss-Pratt, Pro-Vice Chancellor at Coventry University
Coventry University, HEE and THET will use their established international connections to develop the health workforce, and drive progress towards achieving access to health for everyone, everywhere.
The NNC will draw on the expertise of eminent global leaders, to create an actively engaged network of high-level global health stakeholders who will maintain a spirit of partnership and support and promote the objectives of NNC.

The Nursing Now campaign is an inspiration and has done much to increase recognition of the contribution nurses and midwives are making globally.

THET is delighted to be working with Coventry University and Health Education England on this successor programme. We relish the opportunity this programme gives us, to partner with a new generation of nurses and midwives in Low- and Middle-Income Countries and support them in their efforts to deliver quality healthcare for all.


Ben Simms CEO of THET
HEE is delighted to support this unique partnership which has an unprecedented opportunity to empower nurses and midwives across the world to lead the world to global universal health coverage. Through systematic professional development, engagement, peer support and cross-border relationship building, nurses can transform the health and wellbeing of all.


Professor Ged Byrne, Director of Global Engagement at Health Education England