Coventry University researcher expects spike in victims of sexual violence seeking help once lockdown eases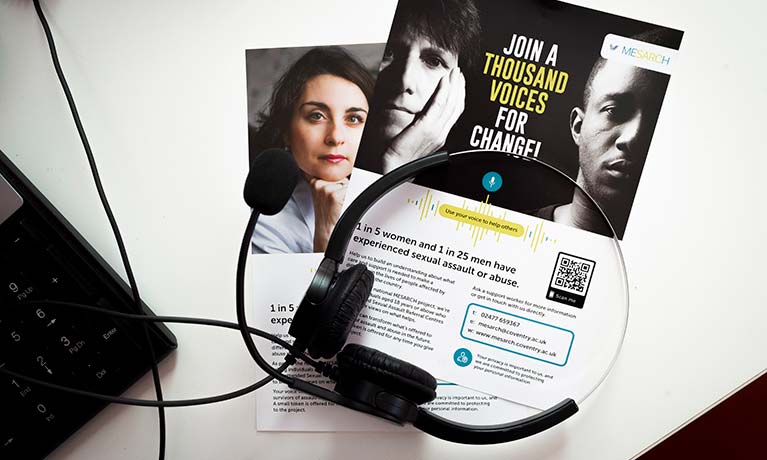 ---
Wednesday 10 June 2020
Press contact
---
A senior researcher at Coventry University believes there will be a spike in the number of victims of sexual violence seeking help once lockdown measures ease.
Lorna O'Doherty, Associate Professor in Mental Health and Violence Prevention at Coventry University, is the principal investigator on the MESARCH project.
The government-funded project focuses on sexual violence, evaluating Sexual Assault Referral Centres (SARCs) in England and studying the health and wellbeing of adult and child survivors of sexual assault, rape and abuse.
Dr O'Doherty has been leading the study since 2018 together with academic, NHS, SARC and third sector partners, the support of NHS England and £1.3m in funding from the National Institute for Health Research, at the University's Centre for Intelligent Healthcare.
The team has continued the research during the current COVID-19 global pandemic, which Dr O'Doherty has highlighted in her university blog.
Keeping our longitudinal study afloat was our priority when the crisis hit. And we continue to invite survivors of sexual assault, rape and abuse to share about the widespread impacts of sexual assault on their lives.
However, we recognised there's something else we need to do: capture the influence of the crisis on people's capacities to stay safe and reach out for support in the context of sexual violence.

Dr Lorna O'Doherty
Dr O'Doherty and the team will only be able to assess the impact of the pandemic on the needs of survivors fully once lockdown has ended, and people come forward and hopefully join the research.
We need to understand how the period of COVID-19 is influencing exposure to sexual violence and abuse, provision of support, and long-term health and wellbeing.
Early findings point to the participants' difficulties looking after their mental and physical health. One person, for example, told of the difficulties accessing contraceptive care through her GP due to the practice shutting.

Dr O'Doherty
The ability for survivors to engage in activities that help them cope with difficulties following abuse and to seek help from neighbours and friends has been limited due to restrictions on leaving the home.
Dr O'Doherty added: "The frequent overlap of sexual and domestic abuse emphasises the reduced options facing many sexual violence victims."
According to the Office for National Statistics, a woman's partner or ex-partner is the perpetrator in 45% of incidents of rape or sexual assault against women.
Dr O'Doherty stressed that sexual violence occurs outside domestic contexts too during lockdown.
"We need to bear in mind that incidents of sexual violence extend beyond the family home at this time, taking place in care settings, the workplaces of key workers, through digital technology, in modern day slavery contexts and in situations where social distancing rules have been broken."
Despite the lack of normal avenues open to survivors, helplines and digital resources are aiding those in need and enabling people to find 'quiet' ways of reaching out using online resources.
Dr O'Doherty said: "Survivors are being very resourceful in their quest for both safety and support.
She added: "Research participants have been positive about how technology is enabling them to remain connected to their sources of support, like independent sexual violence advisors. It's not the same as being with someone in person but many services have found ways to reach their clients remotely. They remain a lifeline for many."
This research is part of the wider MESARCH project with partners including the University of Bristol, University of Birmingham, University of Hertfordshire, University of Leicester, University Hospitals Birmingham NHS Foundation Trust, Rape Crisis England and Wales, the police and a team of contributors with lived experience of abuse.
Dianne Whitfield of Rape Crisis England and Wales believes this research is critical.
She said: "We need to constantly challenge ourselves to ensure that research highlights the needs of victims and survivors of sexual and domestic violence, in all its contexts.
"This research is critical to ensure policy-makers and commissioners are informed of the role and impact of specialist services. The MESARCH research will be a unique enabler to help achieve this."
If you have been affected by sexual or domestic violence the following organisations might be able to provide help and advice:
24 hour National Domestic Abuse Helpline number: 0808 2000 247
Download the free Bright Sky mobile app to help those in abusive relationships or those supporting them.