Coventry University graduate launches books to help children with mental health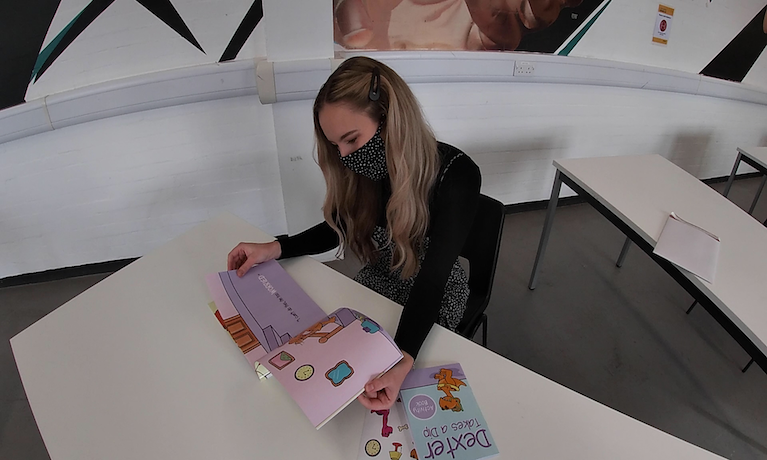 Student news / Alumni news / City of Culture 2021
---
Tuesday 17 November 2020
Press contact
---
A Coventry University graduate has launched her own business producing, authoring and illustrating children's books designed to help youngsters cope with their mental health.
23-year-old Lucy Pearce, who studied Fine Art and Illustration at the university's Coventry city centre campus, has created her first illustrated story book along with an activity pack, based around a fictional dinosaur character called Dexter.
The first book addresses feelings of nervousness, apprehension and excitement, enabling children to better understand different emotions and how they can best be dealt with, whilst also encouraging perseverance and resilience.
The story itself is about teaching children the importance of mental wellbeing and that you don't have to be able to do something first time. It doesn't matter if you fail it's just important to get up and keep going, but if for some reason you can't, that's okay sometimes.

Lucy Pearce, Fine Art and Illustration graduate
Coventry University's Fine Art and Illustration degree programme explores the crossover potential of the disciplines of fine art and illustration, blending traditional, personal and creative investigation with modern day commercial art. The diversity and versatility of the programme has enabled Lucy to combine part time graphic design work with her new business since graduating.
Lucy's inspiration for starting the business and creating the books and activity packs was her five-year-old sister, with the Coventry University graduate keen to provide a resource to young children that she feels wasn't available to her at an early age.
The funding and financial support she has received from the university has helped her to produce 50 activity packs, which she hopes to distribute to local schools free of charge.
The money itself was obviously very useful in order to get the project up and running and to provide Coventry's schools in the near future with these free books, packs and workshops. Not only that but with the support that I got from the staff, I was able to gain a lot of insight from different people which contributed towards the books. Everyone was really helpful and I don't think I could have done this quite as well as I did without the support of the university and everyone who helped me out.

Lucy Pearce, Fine Art and Illustration graduate
As part of the venture, Lucy has launched a brand called Youtopia through which she hopes to create a wider range of fictional characters and stories, broadening the impact of her products on children's mental wellbeing. Lucy plans to produce a series of books, as well as delivering bespoke workshops for schools and other children's institutions.