Coventry University spin-out receives £50,000 to test COVID-19 drugs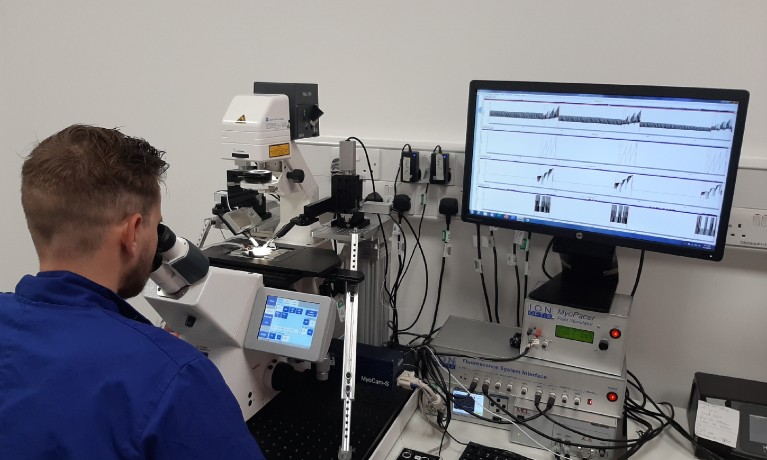 Research news / Business news
---
Thursday 11 June 2020
Press contact
---
A Coventry University spin-out company has been selected to test the safety of new drugs being developed to combat COVID-19.
InoCardia has been awarded £50,000 by the UK government to reduce the risk of new COVID-19 drugs causing life threatening effects on the heart.
This is vital because of the link between cardiac injury and death rates from COVID-19. Hospital studies show that COVID-19 weakens the heart, leading to more severe consequences, so we must ensure that the new drugs we develop to fight COVID-19 do not also damage the heart.
8,600 UK companies applied for the funding, and InoCardia, which focuses on testing the safety of drugs on the heart, was just one of 800 applicants who were chosen by the government to support the development of ambitious and innovative products and services which will help society or industry during and after the COVID-19 pandemic.
Returning to a normally functioning global society post COVID-19 will require effective drugs and vaccines, particularly if we are unable to develop long-term immunity to the virus.

Our project will enable pharmaceutical companies to design new COVID-19 drugs that are 'heart safe' faster and with greater chance of success.

It is paramount that these new drugs are safe enough to be used at home as well as in hospital.

They also need to be safe for people who do not know they have COVID-19 and are vulnerable to the virus, or who may already have underlying heart conditions and are at increased risk.

Professor Helen Maddock, CSO of InoCardia and Executive Director of the Centre for Sports, Exercise and Life Sciences at Coventry University
Executive Chair, Innovate UK, Dr Ian Campbell, said: "Businesses from all over the UK have answered our call rapidly to meet the challenges we face today and in the future through the power of innovation.
"The ideas we have seen can truly make a significant impact on society, improve the lives of individuals, especially those in vulnerable groups and enable businesses to prosper in challenging circumstances."