Coventry University collects winner accolade in Guardian University Awards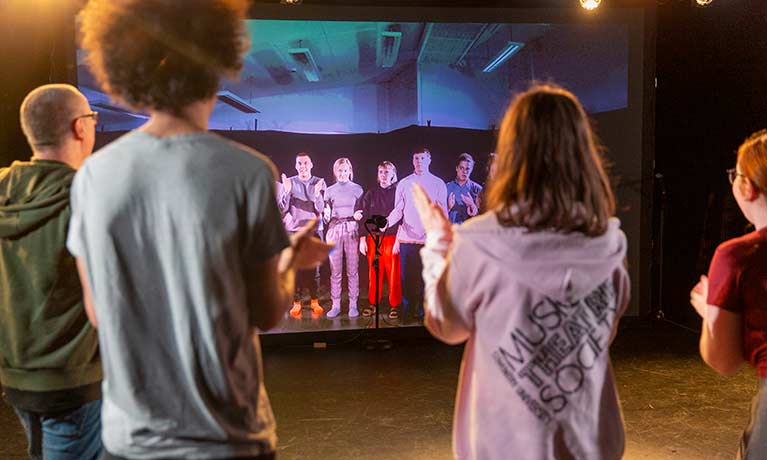 ---
Friday 27 November 2020
Press contact
---
Coventry University Group has been recognised in the Guardian University Awards 2020 for an innovative international theatre project.
An expert panel of judges from across the UK's higher education sector crowned Coventry University's Telepresence in Theatre project winner of the Internationalisation category. The Telepresence project allows students in two different countries to appear as if they are sharing the same rehearsal room.
As part of the Telepresence project, BA Theatre and Professional Practice staff at Coventry collaborated with Tampere University in Finland to create a unique 'immersive space' in order to explore theatre rehearsal and arts education. This space, created in both cities, uses cutting-edge technology, life-sized projection, high-speed internet connections and directional sound, giving the participants the illusion of occupying the same rehearsal room.
Highlights of the project have been a unique 'telepresence banquet' and performance in support of Coventry's successful bid to be the UK's City of Culture for 2021 and a ground-breaking performance at the New World Symphony Centre, Miami, using a blend of live actors working in the USA in real time with motion-captured actors and musicians in Tampere, Finland.
Dr Tom Gorman, Assistant Professor, School of Media and Performing Arts, co-ordinated the project at Coventry University and says it highlights the importance of global collaboration in a year that has seen the COVID-19 pandemic rock the arts world.
This win gives us some much-needed good news in 2020 which has otherwise been a grim year for the arts.

To have this project recognised and to be included among other superb and innovative projects shows the importance of working across borders and making art with students and practitioners across the globe. The real credit belongs to all of the students who have worked on this project from Coventry, Tampere, Helsinki, Gothenburg, Illinois and Poznan and to those students who will make exciting work using this system in the years to come.

Dr Tom Gorman, Assistant Professor, School of Media and Performing Arts