Former Coventry University student's business gets surprise boost from Sir Bradley Wiggins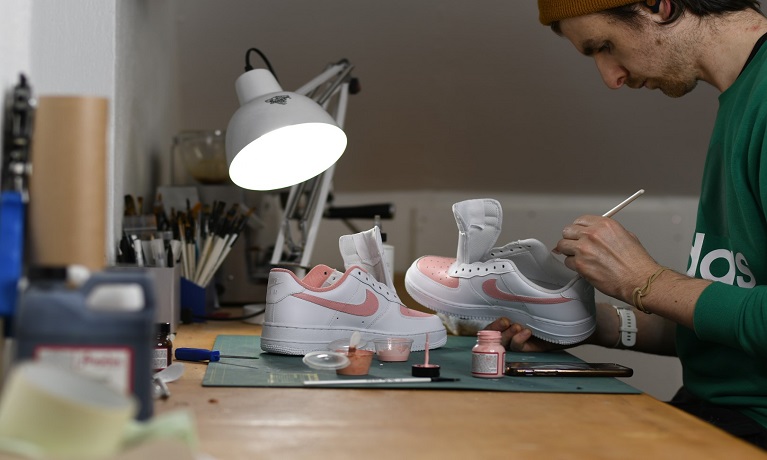 ---
Thursday 03 December 2020
Press contact
---
A former Coventry University student who has launched a shoe customisation and cycling apparel business got a surprise boost when 2012 Tour de France and five-time Olympic champion Sir Bradley Wiggins was pictured wearing socks from his shop.
Shea Gribbon, 24, graduated with a Masters in Product Design Innovation from Coventry University two years ago and grew his business customising shoes in his spare time while working full time jobs.
He throws in a free pair of socks with every custom shoe order and one such pair went to Sir Bradley Wiggin's son last year after he ordered some shoes.
Bradley happened to pull on the pair of socks I sent to his son before going out for a run one morning and shared a picture of himself on social media wearing them. That was pretty cool to see, and proved to be great promotion for my business.

Shea Gribbon, founder, The Shoe Dr
Shea had always wanted to design great products and, after being inspired by Australian cycling shoe company Velokicks, who decorate cycling shoes, decided to have a go himself.
The response to his shoe designs on social media were amazing, and he started getting orders immediately. The business, The Shoe Dr, grew organically for one and half years before Shea decided to quit his job and go into business full time. He advises anyone who is thinking of starting a business to get a grasp of key skills such as business registration and accounting.
Shea credits his Coventry University course with polishing his creative skills and helping him realise his ambition to become a professional designer.
I can safely say that if I hadn't gone to Coventry University I wouldn't be at this stage where I have worked for a great company and also launched my business doing what I love. I use many of the skills I learned and mastered at uni every day, from computer aided design, to Photoshop and model making. I loved my time at Coventry University, and my advice to those who are still studying is to enjoy the course and absorb as much as you can. Be open minded about jobs, you have so much time to explore and try things. And if you have a side hustle you've been working on, give it a shot and grow it patiently without thinking about the money.
Visit Coventry University's website to see the range of postgraduate courses available.