COVID-19 will not stop EU student Matei launching his aerospace career at Coventry University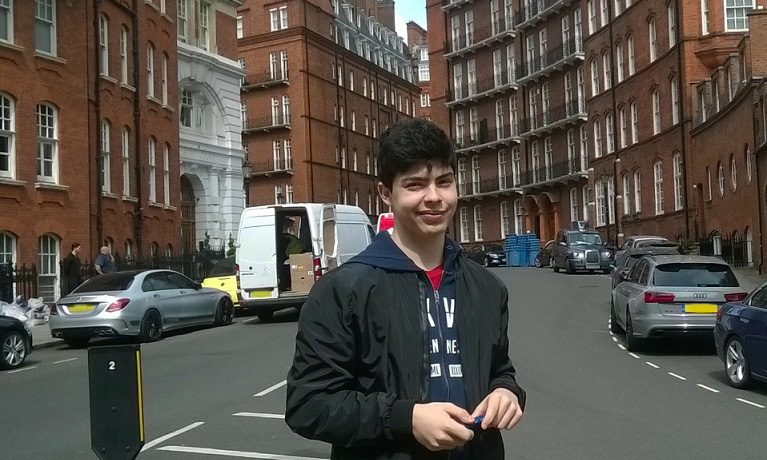 ---
Thursday 27 August 2020
Press contact
---
The ongoing COVID-19 pandemic and fears over Brexit will not stop Matei Grigore's bid for a future in aerospace engineering as the Romanian teenager prepares to launch his career at Coventry University.
The 18-year-old has just completed his studies at Tudor Vianu National College of Computer Science in Bucharest and will enrol on the Royal Aeronautical Society-accredited Aerospace Systems Engineering MEng/BEng (Hons) course in September.
He hopes to develop new technologies and concepts and says the facilities on offer at Coventry fuelled his decision to relocate as he starts his journey to becoming a systems engineer.
I was inspired by a book called The Universe in a Nutshell by Stephen Hawking.

It made me want to reach every corner of the universe and I want to do that by becoming a systems engineer.

When I started looking into applying to university, I kept in mind that I would need lots of hands-on courses, facilities where I could enhance my skills and professors that would help me reach all of those career and academic goals.

When I saw that Coventry offers a high-performance laboratory that contains a wind tunnel and a full-scale Harrier Jet for students to work on, an Add+Vantage programme that boosts their students' employability and an unforgettable student experience, my mind was made up. I cannot wait to learn and continue my journey.

My advice to any other student from the EU who wants to study in England in 2020 would be to speak to the universities, think about the fact that the UK could be your home for the next three to five years and think about the quality of the courses that you could do.

Matei Grigore
Matei engaged with the Coventry University Group's international office and benefitted from their guidance and knowledge on fees, access to loans and scholarships, immigration requirements and post-study employment.
Coventry University is offering EU Academic Scholarships worth £1,500 based on the students' academic grades this year and as Matei prepares to move to Coventry this week, he is looking forward to making the city his home.
Although 2020 is the year of uncertainty, Coventry University made it easy for me to find order and solid information. That has given me a sense of confidence and made me feel safe.

Coventry University reached out and told me what was happening with my application so I was always well informed. After my place was confirmed the next steps were easy to make thanks to the communication from the university.

Making the move and sorting my accommodation in a pandemic has made me more mature.

Matei Grigore
If you have been inspired by Matei's story, call our Clearing hotline on 024 76 888 888 or find more information on our dedicated Clearing page.