Coventry University student feels safest on campus and praises educational quality following return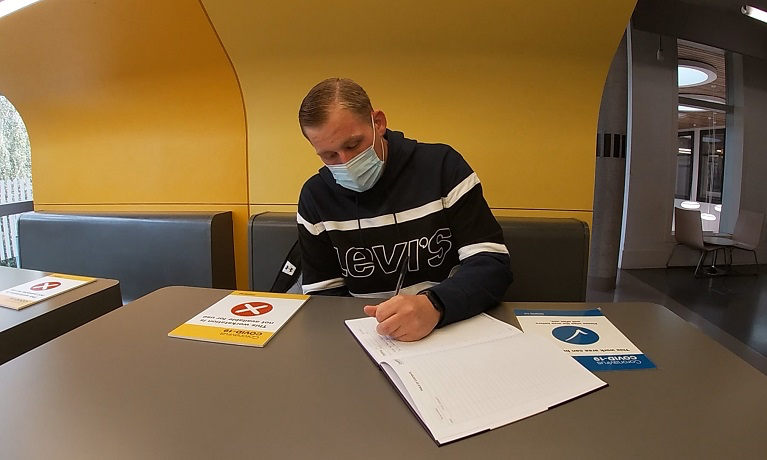 University news / Student news
---
Tuesday 20 October 2020
Press contact
---
A Coventry University student has given his insight into life on campus, which has had to change because of the COVID-19 pandemic.
Giving his personal account of returning to the Coventry city centre campus, second-year Bachelor of Engineering Aerospace Technology student Harrison Childs said he feels safer at university than he does anywhere else after a range of measures were introduced.
I feel perfectly safe – I actually feel safer here (on campus) than I do elsewhere. They've got people wearing masks in communal areas, there are hand sanitisers and one-way systems. It all works really well and I'm happy to be back.
In line with government guidelines, Coventry University Group is offering a blend of on-campus and online learning across its five UK campuses. Most courses have at least five hours of learning on campus for each student, each week, which is around a third of what they would normally expect.
Although a return to campus has been possible for many students, the university has also embraced online educational resources, in order to minimise the number of students on campus at any given time.
Coventry University Group is now using an innovative new platform to help the delivery of online and face-to-face learning. Called Aula, it offers a mobile-first, teaching and learning environment that is built to look and feel like a social media platform to encourage greater engagement and interaction between students. Harrison praised his tutors for embracing new ways of teaching.
It's nice to be back having those face to face lectures – they really do help. I feel really privileged as it's something that other students at other universities aren't getting so I feel like we're making the most out of what Covid has given us and we are still learning at the highest level.

I think the learning experience is the same as normal, if not better because you're in a smaller group, therefore you get a lot more attention from the lecturers.
They're working as hard as they can to make sure lectures are run on time and that they're run to the highest standard.