It took Tess six months to recover from COVID-19 - now she wants us all to protect each other and our NHS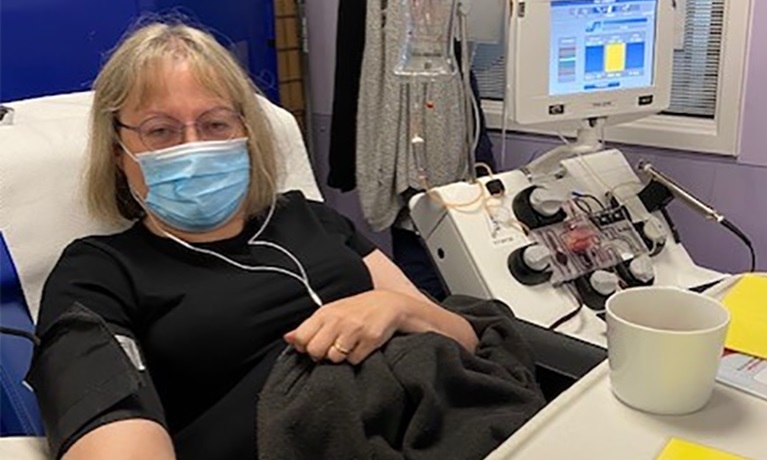 ---
Friday 09 October 2020
Press contact
---
Coventry University staff member Tess Wareing is urging colleagues and students to "do what we can to protect each other and our NHS" after spending six months recovering from the virus.
Tess was treated by alumni and students from the Health and Life Sciences faculty on the Coventry campus when she was rushed into ITU with COVID-19 complications.
Now she is back at work but continuing to return to the hospital to donate blood plasma to aid the NHS' fight against the deadly virus.
Tess, Graduate Destinations Manager at the university, fell ill in March when the pandemic started to hit the world.
She was initially diagnosed with a sinus infection but a week and a half later she was taken by ambulance to an Intensive Therapy Unit (ITU) where she was immediately put on oxygen and confirmed to have COVID-19.
My chest wouldn't move – but I was desperate to avoid being intubated, so I focused everything I had on trying to breathe on my own, always with a picture in my mind's eye of my husband and dogs from a holiday keeping me going.

For the first few days I was mostly asleep, occasionally waking to see a team of medical staff around me, all gowned and masked, usually putting something into me via the cannulas.

Once I'd started to come around, I was told that I had developed viral pneumonia and that, having been through what I had, I may have symptoms of PTSD.

One of the paramedics who brought me in and several of the nursing and support staff I encountered were from the university.

I remember feeling proud of them, and that will always make me smile, as will thinking of every individual in ITU who persevered through the new protocols and uncertainty to keep me alive.

Tess Wareing, Graduate Destinations Manager at Coventry University
As a way of saying thank you to the NHS, Tess has been donating convalescent blood plasma, which contains the antibodies that are needed to find new ways to treat the disease and expand the body of knowledge on COVID-19.
They recently informed me that the more ill you were with the virus, the longer the antibodies in your plasma continue to be produced; the fact that I am still donating six months on tells me more than perhaps I want to know, but I'm proud to have just donated for the fifth time!

You never know when you or a loved one, or even a stranger, might need life-saving treatment, so I would encourage anyone to donate if they can. I will soon be donating my platelets, the small cells that help to stop or prevent bleeding, so that these can be used in patients with leukaemia or other cancers who have too few platelets as a result of their disease or treatment. Altruism is good for the soul!

Tess Wareing, Graduate Destinations Manager at Coventry University
Tess is now back working from home but she says the impacts of COVID-19 will leave both physical and psychological implications on her life as she urged students and her colleagues to stick to the guidelines and think of others.
I've spent six months working to get myself from a state of mental and physical exhaustion, back to a place where I can live something of the normal life I knew before.

Physically, it took a month before I could walk to the bottom of our road and another month before I had the strength to take one of the dogs with me. I also now suffer with 'breath hunger', where my vital signs are good, but I feel the need to gasp and gulp for more air, especially when speaking.

It's vital that everyone realises that their actions in this pandemic will have consequences for themselves and for others.

You or your loved ones may need the type of care I received, so we all need to continue to do what we can to protect each other and our NHS.

Tess Wareing, Graduate Destinations Manager at Coventry University