Coventry University's Polish campus will be ready for September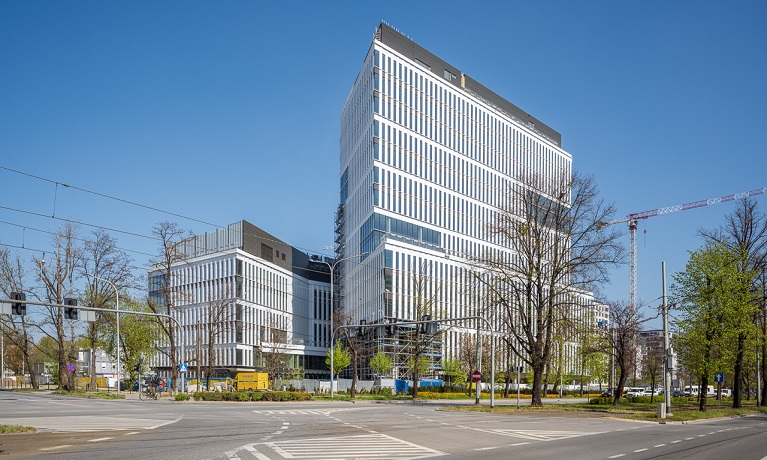 ---
Wednesday 27 May 2020
Press contact
---
Coventry University's new campus in Wrocław, Poland, will be ready to welcome its first intake in September this year subject to the Polish government's decision on the lifting of COVID-19 restrictions.
The university's contractors, Skanska, are making progress on work to fit out the campus building, with their staff on site adhering to all required safety measures. Testing and commissioning of the building is scheduled to take place in the summer.
The Wrocław campus occupies two floors in the Centrum Południe complex being developed by Skanska. More than a dozen bus and tram stops service the campus, and there is also a wide range of banks, pharmacies, cafes, restaurants, and other services located nearby.
Coventry University Wrocław has opened applications for potential students for undergraduate programmes in Digital Technology, Business Management and Leadership, Aviation Management, and Cyber security.
The new campus offers multiple intakes throughout the year to make higher education as accessible as possible. Courses are offered in blocks for both full time and part-time mode and can be started at the beginning of any block in September, November, January, February, April, and June.
Coventry University Wrocław is movin g ahead with plans to open in September this year and I am delighted that our contractors have been able to continue safely with work to get the campus ready for our first intake this summer. We are offering a range of exciting vocational degrees taught in a progressive and flexible way that is tailored to meet students' needs. We aim to offer a career-focused experience to our students, one that is traditionally academic but is also designed to help them progress in their careers.

John Dishman, Pro-Vice Chancellor and CEO of CU Group
We are progressing with fit-out works for Coventry University to open a great space for students in Wrocław on schedule. This is our first project involving the adaptation of office space for academic use, which we are also carrying out under unique circumstances created by the COVID-19 pandemic. We are confident this project will produce a unique combination of friendly and modern spaces adapted to meet the new post-COVID way of working and learning.

Anna Życińska-Wójcik, Project Director, Skanska
The Wrocław campus will recruit approximately 160 students in the first year, with ambitions to increase student numbers and the course portfolio in the future. Information about how to apply as well as the courses offered is available on the university's website.