Coventry University Wrocław to offer scholarships to the best and brightest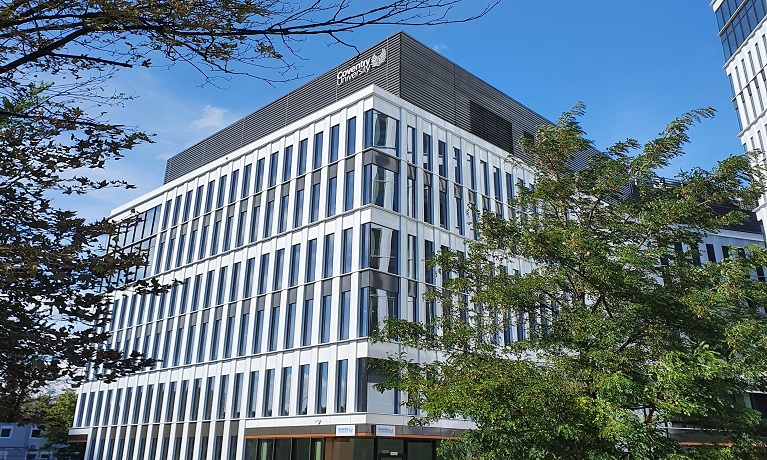 ---
Friday 04 September 2020
Press contact
---
Students who achieve the highest results in their Matura exams or equivalent qualifications will be awarded academic merit scholarships when they enrol with Coventry University Wrocław for their undergraduate studies.
Highly regarded for its teaching excellence and student experience, Coventry University is set to become the first foreign university to operate in Poland when it welcomes its first students to its Wrocław branch campus in September.
The university will award its EU Student Merit Scholarships, worth 20 per cent discount on tuition fees for the first year only, to the best applicants for its undergraduate courses starting in September 2020.
Details on eligibility and how to apply for the scholarships are available on the Coventry University Wrocław website.
The Wrocław branch campus, which is located in the Centrum Południe complex in the city centre, offers a range of career-focused vocational degrees in Digital Technology, Business Management and Leadership, Aviation Management, and Cyber security.
The courses were developed in partnership with local employers and designed to respond to the shortage of work-ready graduates who can fill local jobs. In the UK, Coventry University is distinguished for its expertise in designing courses with local businesses to suit local needs.
The British university is ranked among the top 15 UK universities for five years running in the Guardian University Guide and was given a five-star overall rating by the QS Stars award system.
The Wrocław branch campus will operate a "learn and earn" model to allow students who need to work to finance their studies to do so. Multiple intakes throughout the year will also help to make higher education as accessible as possible, and courses will be offered in blocks for both full time and part-time mode.
I am delighted that we are now able to offer our EU Student Merit Scholarship to those students with high scores in their exams. The scholarships are our chance to reward hard work and encourage those who have the potential to be excellent undergraduate students. We hope this will serve as a further incentive to join our new branch campus in Wrocław.

John Dishman, Pro-Vice Chancellor, Coventry University
Prospective students can find out more about courses on offer or apply to study on Coventry University Wrocław's website.