Coventry University starts work on new state-of-the-art facilities and public gallery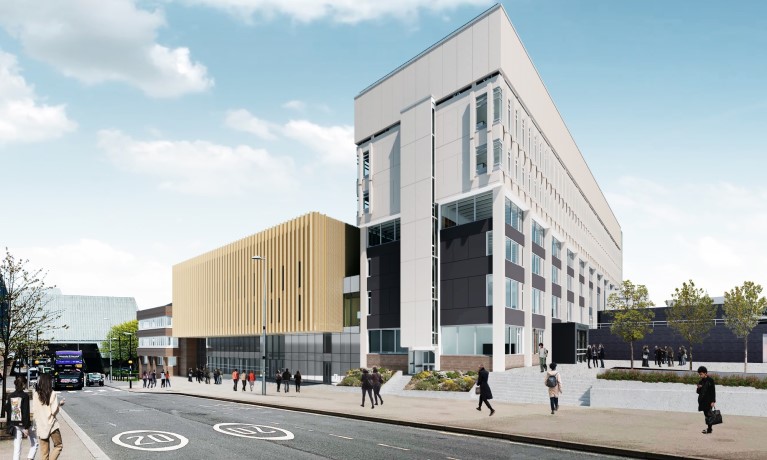 ---
Friday 24 January 2020
Press contact
---
Coventry University is to begin work to demolish one of its arts buildings in a major development which will open up its city centre campus to the public.
The plans for new arts facilities at Coventry University
It will create space for a new state-of-the-art facility which will link two neighbouring buildings, which are also set to be totally refurbished.
The existing Bugatti building, located on Grove Street, will be demolished to make way for a new public entrance and gallery space which will link the university's Maurice Foss and Graham Sutherland buildings. The new building will also provide world-class teaching spaces, including a multi-use studio and Immersive Technology studio.
As part of the work Graham Sutherland and Maurice Foss will be completely refurbished internally and will link to the new building.
Demolition work is set to begin on 29 January. During this process a number of pedestrian and disabled access routes on campus will be affected, however there are alternative routes in place with signage and lighting.
As part of the work a number of trees on the corner of Cox Street and Gosford Street will be replaced or replanted.
We look forward to starting work on this exciting project, which will bring improved spaces for both staff and students.

The new building and refurbishment of existing buildings will enhance our students' experience in Coventry with advanced facilities including new studios. There will also be space for the city's community through the creation of a public gallery.

John Latham, Vice-Chancellor at Coventry University
It is the latest in a series of improvements the university is making to its Coventry city centre campus. The James Starley building, on the other side of Grove Street, is currently being demolished and will be replaced by Starley Gardens, a landscaped area which further opens the campus to the public.