Coventry University signs lease agreement for its Polish campus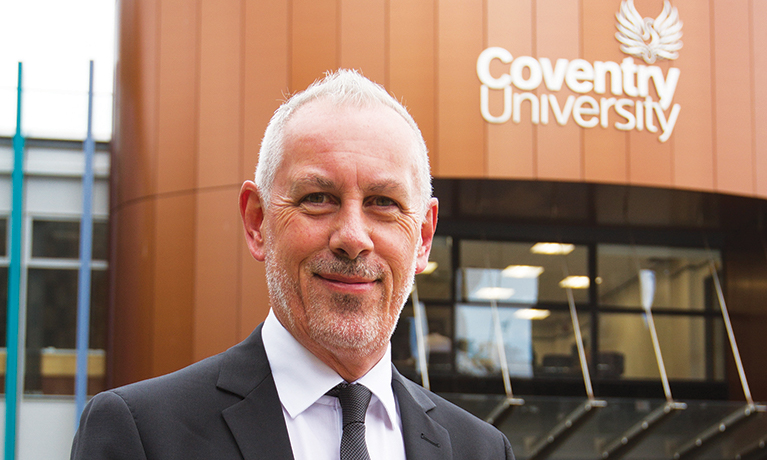 ---
Thursday 06 February 2020
Press contact
---
Coventry University moved a step closer to becoming the first foreign university in Poland by signing a lease agreement with property developers Skanska, with support from real estate consultants Knight Frank, for its new branch campus in the city of Wrocław.
The new campus occupies two floors in the Centrum Południe complex being developed by Skanska, which combines office, service and recreational functions.
More than a dozen bus and tram stops service the campus, and there is also a wide range of banks, pharmacies, cafes, restaurants and other services located nearby.
The Centrum Południe complex is designed to allow in natural light and reduce the use of artificial lighting. The complex has an open square with an inner arcade and fountain.
Work to fit out the campus building with facilities for students started in January and will be completed at the end of June, with testing and commissioning of the building scheduled to take place in the summer.
The branch campus will welcome its first students in September, and will offer UK degrees taught in English.
Initially, the branch campus will offer undergraduate programmes in Digital Technology, Business Management and Cyber security, while a fourth course – Aviation Management – is currently in development. The programmes were selected in collaboration with local businesses and the City of Wrocław.
In the first year of operation, the branch campus plans to recruit approximately 160 students with ambitions to increase student numbers and the course portfolio in the future.
I am delighted that we have now secured the premises for the new Coventry University Wrocław campus in Centrum Południe. The location is perfect for us, adjacent to the Sky Tower, and is an ideal place for our students to learn with us. The quality of the buildings is superb and enables us to offer high quality education, in modern purpose-built accommodation. My thanks to the developer Skanska and our agents Knight Frank for accommodating and supporting us so well. I look forward to the launch of the campus and welcoming new students in September 2020.

John Dishman, pro-vice chancellor and CEO of CU Group, Coventry University
We are happy to welcome Coventry University, which is well-respected and highly rated by students, in Centrum Południe. This is a unique situation when a foreign university opens its branch in Poland. Our cooperation is proof that we are able to deliver an innovative, comfortable and tailored working environment for tenants from various sectors. Centrum Południe, soon to be the first WELL-certified office building in Wrocław, is focused on improving users' comfort, by enhancing their health and wellness. We hope that our spaces will contribute to make teaching and studying much more pleasant.

Marek Stasieńko, regional leasing director, Skanska
It is a great honour and distinction for us that we could represent Coventry University in the process of renting its first foreign branch. It is also a perfect complement to the function of the Centrum Południe complex, which will offer a wide range of services not only to its tenants, but also to residents of Wrocław and beyond. I am sure that the activity of Coventry University in Wrocław will further strengthen the city's position both in the country as well as in Europe.

Anna Patrzyk-Sperzyńska, Knight Frank's leasing manager in Wrocław