Coventry University announces new partnership for Moroccan campus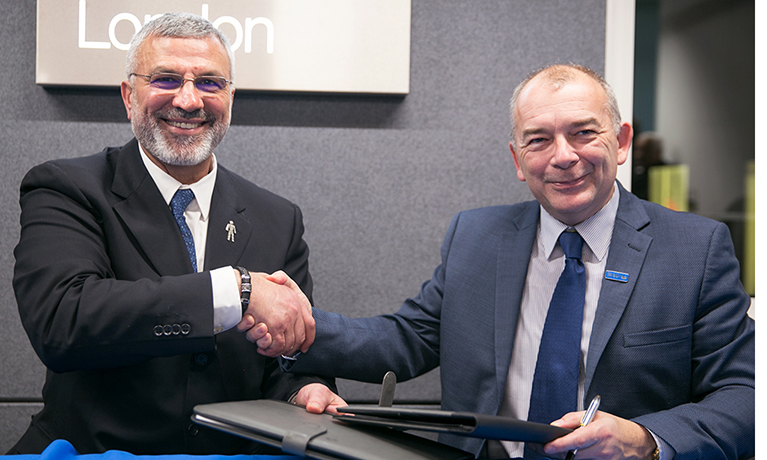 ---
Monday 27 January 2020
Press contact
---
Coventry University and Morocco's Superior Institution of Science & Technology (SIST) have signed a memorandum of understanding (MOU) to establish a partnership that will provide teacher training and other programmes in areas such as business and science and technology.
Professor John Latham CBE, Vice-Chancellor of Coventry University, and Dr Tariq Obaid, President of SIST, signed the MoU during a reception at the inaugural meeting of the UK-Morocco Higher Education Commission hosted by Coventry University at its London campus on 22 January 2020.
SIST, a higher education institute which operates entirely in English in Morocco, will invest £14 million to develop a purpose-built campus in Casablanca to host Coventry University's programmes.
The agreement will also enable the partners to explore opportunities for joint research, teaching and mobility to and from Coventry University's UK campuses for its Moroccan staff and students.
Thousands of Moroccan students are expected to benefit from the new partnership over several years by having access to additional and alternative educational experiences that are aligned with the needs of their society.
I'm delighted that we have hosted the UK-Morocco Higher Education Commission's first meeting, which looked at strengthening links between Morocco and the UK's higher education sectors. I'm particularly pleased because we have become the first UK university to sign an agreement to set up a campus in Morocco. Our partnership with SIST will give us our first strong relationship with a Moroccan institution, particularly around science and technology and teacher training. We're also looking at partnerships in nurse training and nurse education and exploring links around research, especially water security and food security. We see Morocco as a gateway to Africa and a country where higher education in the UK overall could have more and further collaborations.
I'm pleased that our two institutions have decided to work together to deliver teacher training and other disciplines in Morocco. Our partnership with Coventry University has potential to deliver great benefits to our two institutions while contributing immensely to Morocco's human resources development. Moreover, staff and students in both Morocco and Coventry could benefit from the cross cultural networks that will be developed and the joint activities that will grow once the partnership is established.
The partnership between Coventry University and SIST exemplifies the main objective of the UK-Morocco Higher Education Commission to strengthen strategic partnerships between the Moroccan and British education sectors. The Commission aims to enhance collaboration in the areas of student mobility and internationalisation, research and innovation, quality assurance and governance, and reform in teaching methods and the use of science and technology.
Organized by the British Council and the British Embassy in Morocco, the Commission's meeting was addressed by high level officials from the two countries, including the Rt. Hon. Conor Burns, the UK's Minister of State for International Trade, and Driss Ouaouicha, Minister Delegate for Higher Education in Morocco.
I'd like to thank Coventry University for their interest in Morocco and for hosting the inaugural meeting of the Higher Education Commission. They are exploring the possibility of opening a campus in Morocco, and we will be happy to work with them and to welcome them. Coventry University enjoys a very positive international reputation and is well ranked in international ranking systems. We are happy to exchange experiences with them, learn from their experience and share what we do, and look forward to welcoming them in Morocco soon.
We have hosted the first meeting of the newly established UK-Morocco Higher Education Commission at Coventry University because it represents what we're trying to achieve. It's great to work with Coventry University, which is one of the UK's most dynamic and positively entrepreneurial universities. They do great things, always in partnership, and always aiming to make a difference for the students who enrol on their programmes here in the UK and around the world. I'm delighted that Morocco is on their radar and look forward to nurturing that partnership and other partnerships between UK and Moroccan higher education institutions.