Coventry University nominated for 2020 Student Nursing Times Awards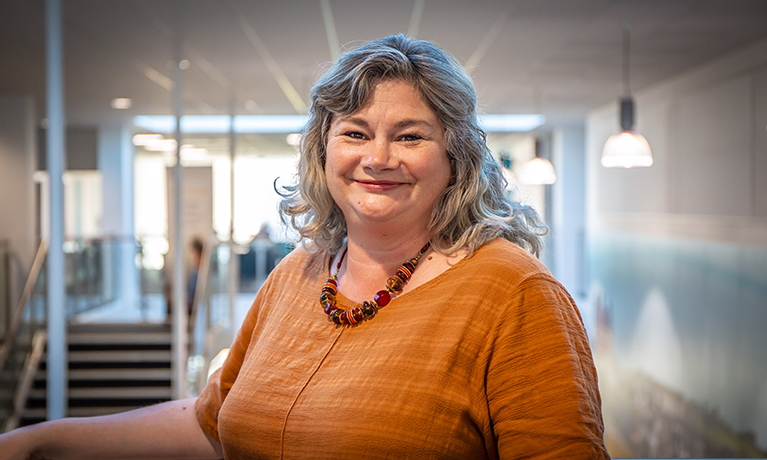 ---
Tuesday 10 March 2020
Press contact
---
Coventry University has been selected as a finalist in the Nursing Associate Training Programme Provider of the Year category for the 2020 Student Nursing Times Awards.
Coventry University students and staff have also been shortlisted in a further four categories of the awards, which will be held at Grosvenor House, London, on 24 April 2020.
Lecturers Rija Bobby and Emily Harrison (pictured), who is the course lead for nursing at CU Scarborough, part of Coventry University Group, were shortlisted in the Educator of the Year category. Students Pearl Setchell (Most Inspirational Student Nurse of the Year), Marta Koscielniak, Hayley Scutts, Tracey Pittaway, Annie Charlton (Nursing Associate Trainee of the Year), and Chloe Berg (Student Nurse of the Year: Children) also made the awards shortlist.
Coventry University introduced the Nursing Associate Foundation Degree in 2017 and has to date enrolled six cohorts of trainee Nursing Associates totalling 195 students across its sites in Coventry, Scarborough and London.
The foundation degree is designed to meet the educational requirements necessary for the newly created Nursing Associate role, supporting registered nurses delivering hands on care in a wide variety of clinical settings. It also offers a pathway to other nursing roles, including that of a graduate nurse through progression onto a pre-registration programme.
A 2019 OFSTED inspection report on the university's Nursing Associate foundation degree described Nursing apprentices' work as 'of a particularly high standard' and commended staff for the high level of support they give to trainees.
Coventry University also enrols about 350 new BSc Nursing students across the four fields of nursing (adult, children and young people, learning disability, and mental health) each year, the majority of whom go on to work in the Coventry and Warwickshire area upon graduation.
It is a great honour for us to be named among the best providers of Nursing Associate training, and for our staff and students to be recognised for their excellence. At Coventry University we have introduced a range of pathways into the nursing profession by working incredibly closely with our practice education partners. We have excellent students who are flourishing via these routes, but there are still a huge number of nursing posts that need filling in order to meet service need.

Professor Lisa Bayliss-Pratt, Pro-Vice-Chancellor, Faculty of Health and Life Sciences, Coventry University
This nomination is a real honour and reflects what has been the most challenging and exciting part of my career – helping to bring nursing training back to Scarborough after 23 years! We are providing opportunities locally for potential nurses unable to move away to undertake their training, and making a positive contribution to the future nursing workforce.

Emily Harrison, course lead for nursing at CU Scarborough
I'm very delighted to be nominated for this award and I can't thank the staff at Coventry University enough for providing a great deal of support for students both in and outside of the classroom environment. I have benefited from the wide variety of teaching styles utilised within this course, from the standard lecture formats with engaging lecturers to games and online activities. The university has presented this programme so that it is accessible to all students willing to learn.

Hayley Scutts, Nursing Associate Trainee of the Year nominee
The Student Nursing Times Awards celebrate the very best in nurse education, recognise and reward brilliant educational establishments and honour those who are committed to developing new nursing talent as mentors, lecturers and providers of placements. The awards also pay tribute to students who have demonstrated the academic achievement, clinical prowess and personal qualities that will make them brilliant nurses.