Coventry University manufactures and donates face shield visors to NHS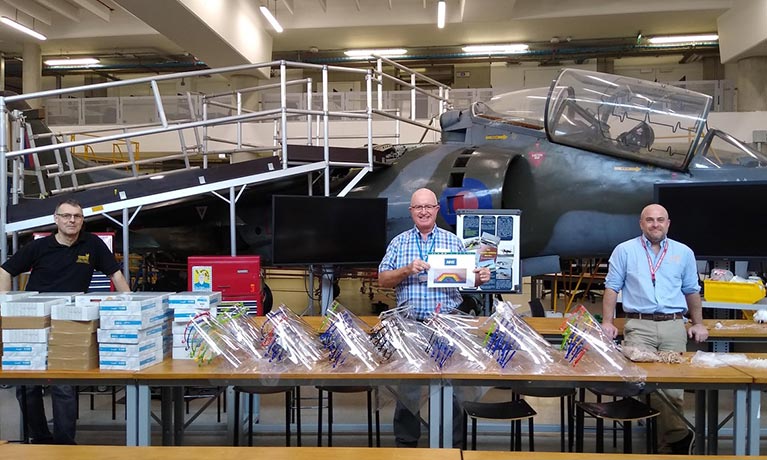 ---
Wednesday 15 April 2020
Press contact
---
Coventry University is manufacturing full face protection equipment to donate to local NHS and public health teams to help frontline workers during the COVID-19 pandemic.
Academic and technical staff in the university's Faculty of Engineering, Environment and Computing are using 3D printing machines and laser cutting equipment to produce much-needed face shield headband frames and clear face visors.
The university is targeting the production of 500 face shield visors per week until at least the end of April.
The face shields are being donated to Coventry and Rugby Clinical Commissioning Group, South Warwickshire NHS Foundation Trust and some local public health teams to help alleviate shortages of personal protective equipment during the COVID-19 pandemic.
The face shields were produced using open-source designs that have been developed for rapid manufacture with off-the-shelf materials and have been approved by the recipients as being fit for purpose in the current situation.
We're very pleased to be able to use the facilities at Coventry University in support of the National Health Service and care providers at this time. Our academic and technical staff have responded positively and selflessly to the task of taking designs for personal protective equipment and realising them with our range of 3D printing and laser cutting equipment. We plan to run production continuously for the coming weeks.
Coventry University has stepped forward to assist the NHS as well as local public health teams in their work to combat the COVID-19 outbreak. Around 50 paramedic students who have previously worked with West Midlands Ambulance Service (WMAS) on placements have joined up once again with ambulance staff at the service's request to help bolster their numbers during the COVID-19 outbreak.
The university has also donated vital personal protective equipment including hundreds of goggles and thousands of gloves, to public health officials in Warwickshire to distribute to care workers.