Coventry University in Poland to offer Aviation Management degree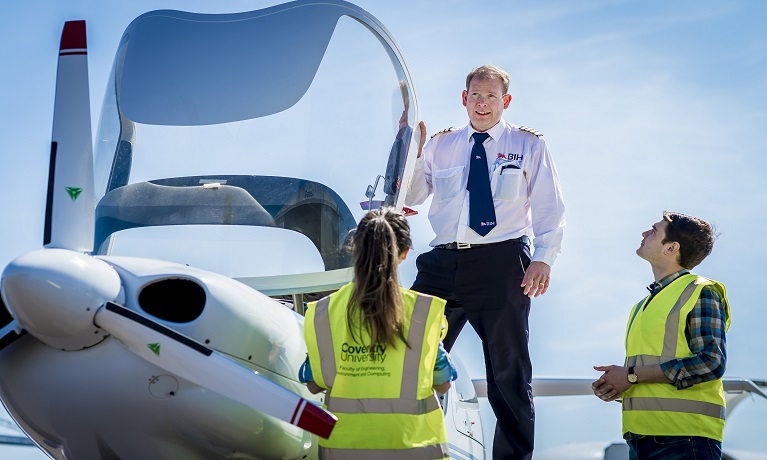 ---
Thursday 25 June 2020
Press contact
---
Coventry University has added an undergraduate programme in Aviation Management to the course offer at its new campus in Wrocław, Poland.
The university is hosting its first online open day on Friday 26 June to showcase its courses, which also include undergraduate degrees in Digital Technology, Business Management and Leadership, and Cyber security.
Prospective students with an enthusiasm for commercial aviation can now apply to study for a BSc Honours in Aviation Management when the Wrocław campus opens for its first intake in September this year.
The highly focused business management degree is designed to develop resilient professionals who can proactively apply specialist knowledge, skills and capabilities in a diverse, global aviation industry.
At the online open day, which will be open between 12pm and 4pm (CET) this Friday, potential students will be able to find out more about the benefits of studying with a top ranked UK university. Highly regarded for its teaching excellence, student experience and employability of its graduates, Coventry University is also the first foreign university to open a campus in Poland.
Potential students will also attend course related presentations to find out more about what they can study, engage in live question and answer sessions with tutors, and get information about how to make an application and finance their studies.
Those wishing to attend the online open day can register on the Wroclaw campus website.
The new campus offers multiple intakes throughout the year to make higher education as accessible as possible. Courses are offered in blocks for both full time and part-time mode and can be started at the beginning of any block in September, November, January, February, April, and June.
Full-time study consists of four six-week academic blocks per year and courses run from Monday to Friday. However, students only study one module at a time to allow them to fully immerse themselves in a singular topic.
Part-time students can take up to four blocks a year and need to complete 12 blocks to finish their degrees, with a single block taking six weeks. This means that studying part-time can be quicker at Coventry University Wrocław than at most institutions as a part-time degree course can be completed as quickly as three years.
I'm delighted to announce the addition of the Aviation Management programme to our range of exciting vocational degrees at Coventry University Wrocław. We have listened to local employers and the Wrocław City Council about the need for good quality graduates to meet the needs of the growing number of Aviation companies in the region, and have worked hard to develop the Aviation Management degree as part of our response. We are calling on all potential students to attend our online open day and find out more about our degree programmes, which meet the technical needs of employers and prepares our graduates for the job market.

John Dishman, Pro-Vice Chancellor and CEO of CU Group, Coventry University
Applications for the university's first intake have now opened on the university's website.