Coventry University helps host BBC Antiques Roadshow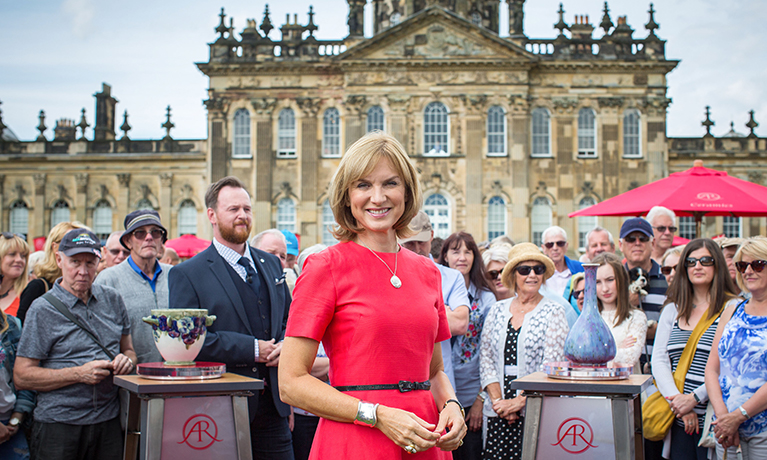 ---
Tuesday 25 February 2020
Press contact
---
Fiona Bruce and the BBC Antiques Roadshow team will be coming to Coventry University's main campus when they film at University Square and Coventry Cathedral on Tuesday 8 September 2020.
Producers plan to film two episodes of the famous programme during their day in the city - one to be screened this Autumn and one in the 2021 series, when Coventry will be UK City of Culture.
While the cathedral and University Square will be used to host the thousands of visitors expected to turn up with heirlooms, Coventry University will also provide space for crew members, make-up and security in the Alan Berry building and TheHub.
First broadcast in 1979, Antiques Roadshow remains one of the most popular factual programmes on BBC One with around six million people regularly watching on Sunday evenings.
Presenter Fiona Bruce says there are some remarkable items still out there waiting to be discovered.
We saw some astounding valuations in last year's series, let's try and do even better this year. We're visiting some beautiful and surprising locations and no doubt we'll meet some surprising owners too. All comers welcome so do bring along your objects and let's see if we can unearth some truly amazing finds. A Faberge egg would do, I'm not fussy!

Fiona Bruce, BBC Antiques Roadshow presenter
Thousands of people come to each Roadshow filming day hoping their car boot bargains and family heirlooms are missing masterpieces or priceless treasures. Entry to the Roadshow is free and no tickets or pre-registration is required.
The Antiques Roadshow coming to Coventry is fantastic news for our staff and students and the city as a whole. We are delighted to host filming for this much loved show at University Square, especially at this time as Coventry steps up preparations to launch an exciting programme of activities and events in the autumn to celebrate City of Culture 2021.

Professor John Latham CBE, Coventry University Vice-Chancellor
Some of the Roadshow's most fascinating finds include a Faberge flower ornament worth £1million, a handwritten document signed by Elizabeth 1, a ring containing a lock of author Charlotte Bronte's hair, a wristwatch owned by Lawrence of Arabia, a 17th Century miniature book reviewing Shakespeare's plays and a leather jacket worn by John F Kennedy.
There's always a buzz when the Roadshow comes to town and we can't wait to see what treasures and heirlooms will emerge from the attic. It's a great day out for all the family and a brilliant opportunity to go behind the scenes of one of the of the BBC's best-loved programmes. You never know, it could be your item that gets chosen to be on TV. Our team of experts are looking forward to seeing your items and they'll be able to reveal more about what they are and where they come from – and of course, that all important valuation. Come and find out if that mystery object that's been gathering dust all these years is actually worth a fortune!

Robert Murphy, series editor of Antiques Roadshow
Many objects featured on the Roadshow are found in some very strange places. Winston Churchill's hat and letters were discovered in a dump near London, Donald Trump's vanity set found in a charity shop, a mysterious pottery figure found in a coal shed and diamond jewellery discovered sewn into a sofa.
Entry to the Roadshow is free. Visitors are welcome to turn up on the day but they can also share their stories about special items they are bringing along on the BBC's website www.bbc.co.uk/antiquesroadshow.
Alternatively, visitors can write to Antiques Roadshow, BBC, Whiteladies Road, Bristol BS8 2LR. More information, frequently asked questions, and parking information can be found on the BBC Antiques Roadshow page or on its Facebook page.