Coventry University and UHCW announce innovative partnership to improve patient care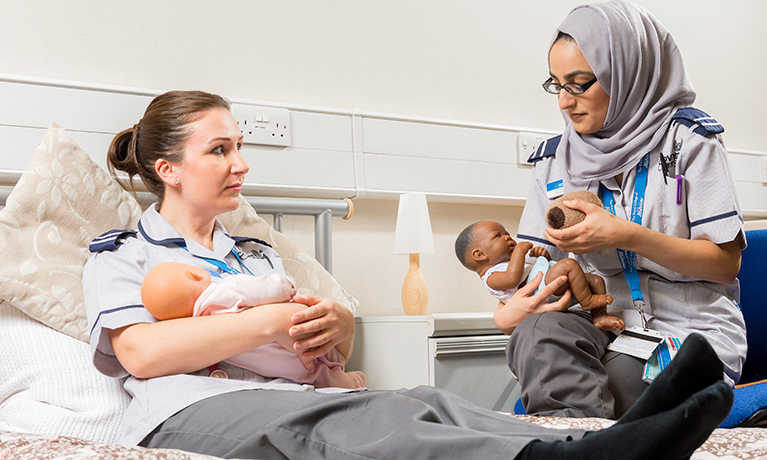 ---
Thursday 16 January 2020
Press contact
---
University Hospitals Coventry and Warwickshire NHS Trust (UHCW) and Coventry University have announced an innovative partnership to develop a Centre for Care Excellence for Nursing, Midwifery and Allied Health Professions (NMAHP).
Led by four jointly appointed professors, the Centre's objectives are to further enhance patient care and academic excellence through research, practice development, education and innovation.
Ruth May, Chief Nursing Officer for England, will officially launch the Centre for Care Excellence at University Hospital, Coventry on Friday, January 24.
The development of the Centre for Care Excellence provides an opportunity for innovation and improvements in practice to be driven and underpinned by high quality research and the generation of best evidence. The Centre will provide support and inspire staff who have new ideas and a desire to make a difference to patient care and service delivery. We are excited by the focus on 'excellence in care' which will provide the core focus to bind together our activities and the partnership between the two organisations.

Dr Rosie Kneafsey, Head of School, Nursing, Midwifery and Health at Coventry University
The centre will seek to increase the number of research active health staff in both organisations and will provide support for future Clinical Academics in NMAHP. By enabling better sharing of knowledge and expertise, the Centre aims to empower staff at every level to be able to develop ideas to make 'patient first' improvements.
NMAHPs have always undertaken Continuing Professional Development (CPD) to ensure they are at the forefront of knowledge in their field. The centre takes this further by supporting practitioners to become creators of new knowledge as well as recipients of best evidence.
The Centre for Care Excellence will act as a catalyst to develop the career pathways of current and future generations of Nursing, Midwifery and Allied Health Professionals. We are delighted to be building on our successful partnership with Coventry University by stimulating, supporting and initiating excellence in clinical practice, research and education which is embedded in patient care. Our aim is to become an internationally recognised Centre of Excellence through supporting our staff, providing world class facilities and conducting leading edge, multi-professional, collaborative research focussed on the needs of our patients.

Nina Morgan, Chief Nursing Officer at UHCW