Coventry's universities announce joint project to support creatives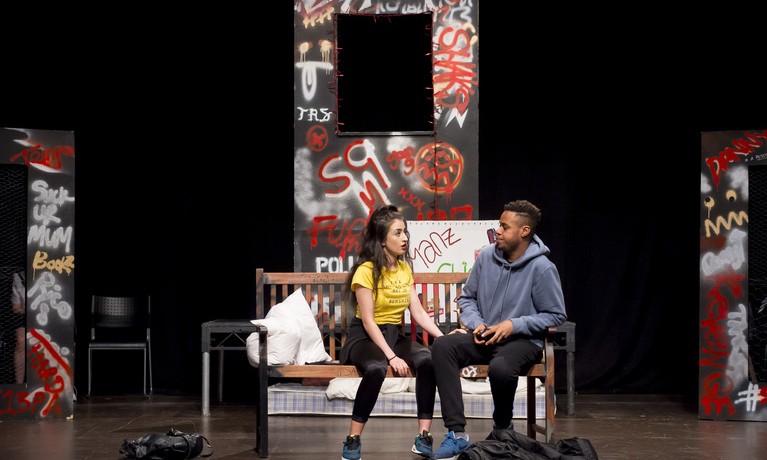 ---
Wednesday 08 April 2020
Press contact
---
Coventry University and the University of Warwick have launched a joint project that will fund local artists hit financially by the COVID-19 outbreak to allow them continue their projects during the outbreak.
The selected works will be showcased this summer in a special digital exhibition in conjunction with the Coventry City of Culture Trust and then kept in the Coventry City of Culture Digital Archive.
It's of vital importance we support the city's creative sector right now and we want to offer them sustainability and recognition for their work.

These are people who are often self-employed and working on small-scale start-ups, working from commission to commission and we want to make sure they don't fall into the gaps in terms of funding offered during the pandemic.

Not only is it a way to showcase their work, it's also to make sure they receive vital funding at a difficult time.

Neil Forbes, Coventry University's Former Research Lead for City of Culture
Professor Jackie Hodgson, University of Warwick Deputy Pro-Vice Chancellor for Research said: "Coventry University and the University of Warwick are both delighted to be able to announce this partnership call providing funding of up to £2,000 per project, to commission local artists and creative organisations to collaborate with our researchers in order to create novel artworks in response to research projects.
"This is an exciting opportunity for researchers to work with artists of all descriptions in creative and innovative ways, to extend the reach of their work, gain new contacts and engage with City of Culture."
The two universities would like to hear from anyone working in the arts including (but not limited to); combined arts, dance, film, libraries, literature, music, museums, and theatre and visual arts. We also look forward to receiving applications that showcase interdisciplinarity and innovation.
The commissions will be showcased in a digital exhibition in summer 2020, to be curated by the University Partnership in conjunction with the City of Culture Trust. All works of art resulting from this call will also be digitally archived in the Coventry City of Culture Digital Archive.
The call for applications was open to all types of research, relating to the two universities' City of Culture Research Themes. Whilst we are keen to see applications from new projects that are specifically about the covid-19 crisis and are still developing as the situation unfolds (e.g. infectious disease, immunity, pandemics, social isolation, mental health, homeworking, remote working, key workers, education, air/water pollution etc) your project does not need to relate to the crisis in order to apply.
The work should be shareable digitally.
Projects will be shared with the producing team at the City of Culture Trust and may be picked up for further development.
Coventry University has a number of digital practitioners who can become creative practice partners on proposed projects. This means that if you are uncertain about how to realise a project though digital outputs and artefacts - we may be able to link you with the expertise needed.
A fundamental condition of each commission is the understanding that the artist will work with/respond to a matched research project through a series of digital conversations and collaboration. Production of these commissions must be possible within the boundaries of our current 'locked down' situation; safety and adherence to current social distancing measures are paramount.
Anyone seeking a commission is encouraged to collaborate with researchers at the University of Warwick and Coventry University, but this is not a prerequisite. Applications linked to work at either or both institutions are welcome
The artist/organisation should be within the CV postcode area.
Key Dates:
April 3rd 2020: Call launched.
April 30th 2020: Call closes at noon, midday.
April 30th - May 15th: Applicants are contacted. Those that are successful and already matched will receive Terms and Conditions and a cost code in order to commence work. Researchers and artists that are successful and require matching will be linked together and development of the piece will commence.
May - July 2020: Collaboration commences and projects continue.
July 10th 2020: Projects should be complete no later than July 10th and artists/organisations must receive final payment before July 31st 2020.
Summer 2020: Digital Exhibition opened
This is an experimental call so if you are planning on applying then please let us know as soon as you have decided. This will help the two universities plan for the call close, assessment and matching process of applications and then to finally decide who will be chosen for the commissions.
Please express your intent to apply as soon as possible.
Please submit your application before April 30th noon, midday.