Coventry University to open Covid-19 testing facility to local community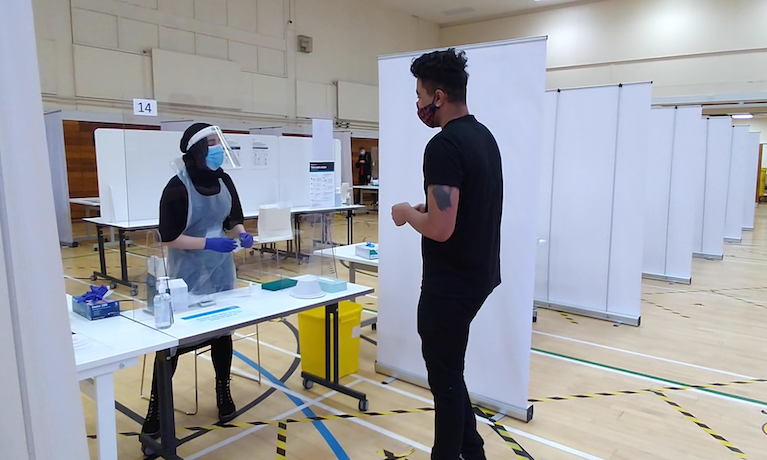 ---
Wednesday 16 December 2020
Press contact
---
Coventry University's Covid-19 testing centre will be handed over to Coventry City Council to enable it to offer mass testing to the community over the Christmas period.
The facility was set up to test students with no symptoms before they travelled home for the Christmas break, with the aim of reducing the risk of spreading the virus.
More than 3,000 tests were booked, with trained staff and students helping ensure tests were carried out properly and safely.
The testing centre, which will be taken over by the council over Christmas from 16th December, is based in Coventry University's Priory Sports Hall in University Square, opposite Coventry Cathedral in the heart of the city centre.
Members of the public will have the opportunity to take a lateral flow test at the testing centre, which involves a self-taken swab of both the nose and the back of the throat. The results will then be processed by a trained member of staff.
Those being tested should have their results within an hour of their swabs being processed.
Coventry University will retake control of the testing centre in the new year, with plans in place to resume testing of students and staff.
We are delighted to be able to offer the use of the testing facility we have created in our Priory Sports Hall on our Coventry city centre campus to test the local community.

Our testing regime designed to give asymptomatic students the chance to be tested before travelling home for Christmas ran smoothly and effectively, and we have every confidence that the use of our facility will be an invaluable resource for the council in their continuing hard work to keep the people of Coventry safe.

We are determined to continue working with our students, staff and the communities in which we are located to do everything we can in our united efforts to contain the spread of coronavirus.

Ian Marshall, Coventry University Deputy-Vice-Chancellor and Chief Operating Officer
Last week, we saw the first vaccinations take place in Coventry and that is great news, but the roll-out will take some time and we still need to do all we can to halt the spread.

Testing is a key weapon in the battle against coronavirus and this week marks a significant step in our city's work to return to a more normal way of life. It has been made possible by a group of dedicated and selfless volunteers, including Council staff, workers from our partners and residents who have stepped forward to help others.

Thank you to all our volunteers, and to Coventry University for generously allowing us to use their building that is right in the heart of the city centre, so we can reach as many people as possible.

Councillor George Duggins, Leader of Coventry City Council
Walk-in sessions will be available from 9am until 5pm on weekdays, so those wishing to be tested will not need to book a test. The service will be open throughout the Christmas period, with the exception of weekends and bank holidays.
People arriving for a free test will be asked for a form of ID and a socially distanced queueing system will be in place if and when it is needed.
Anyone with any of the main COVID symptoms should seek a PCR test in the normal way – dial 119 or visit www.nhs.uk/coronavirus.