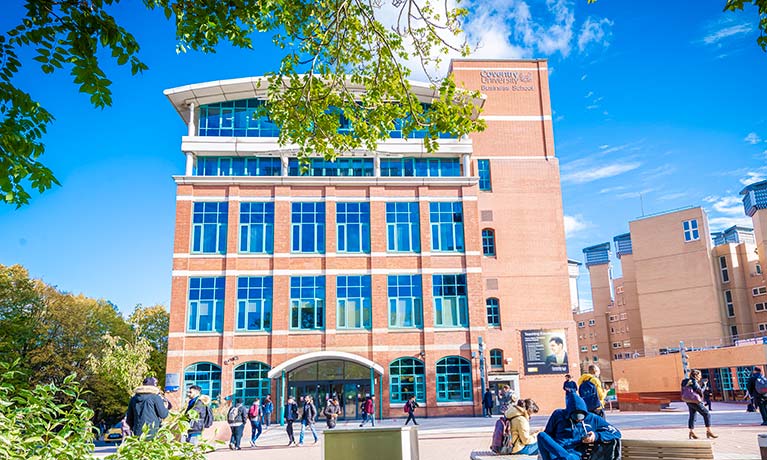 Margaret Liu
Assistant Professor
Faculty of Business and Law
About
Dr Margaret Liu is an Assistant Professor of law at Coventry Law School in Faculty of Business & Law and an Associate in Faculty Research Centre for Financial & Corporate Integrity. She is also the Director of Law for PhD Postgraduate Research Students (PGRs). She presently leads the LLM law modules of International Sale of Goods, Contemporary Issues in International Human Rights Law, International Criminal Law & Justice and LLM Dissertations.
Career overview
Margaret Liu received her BA and LLM from Xi'an Foreign Languages University and China University of Political Science and Law respectively. Then she was a Senior Lecturer and the Head of Law Department in Xi'an University of Finance and Economics, and a Solicitor at Xian ZhenDa Law Firm. She received a PhD in Law from the University of Glasgow in 2000 and joined Coventry University in 2001.
Margaret Liu's expertise is in International Commercial Arbitration, International Human Rights Law, International Trade Law, and International Criminal Law, particularly, in the fields of international arbitration, the protection of child' s rights and legal pedagogy education. This work is an outgrowth of her practice-based applied research, drawing on her prior career experience as a solicitor and a legal advisor to a Joint-venture company and local governments, where she advised on public sector reform, a rights-based public service and international commercial arbitration. Margaret Liu has been invited to give many of keynotes at international conferences, workshops and seminars. She has published many of research articles in academic journals, at conferences and books to transfer her research results to legal practice. She is a qualified solicitor and a fellow of the Higher Education Academy of the United Kingdom. She has successfully supervised more than 200 LLM projects leading to the awards of their degrees since 2001 at Coventry University. She has also successfully supervised many PhDs in the fields of international commercial arbitration, international human rights law and international humanitarian law, leading to the award of Doctoral Philosophy (PhD). Along with her achievements as the Director of PGRs, she was awarded an Excellence Award of PGR Supervisor of the Year 2021 by the Coventry University.
Research
Margaret Liu's research interests are International Trade law, International Commercial Arbitration, Children's Right to Education, International Human Rights Protection and State Obligations, International Criminal Law and Legal Pedagogy Education.
PhD supervision
Dr Liu is pleased to accept PhD students in the fields of international commercial arbitration, international human rights law and state obligations, as well as international criminal law. PhD applications within the above areas are welcome. Please email her to arrange an appointment.
Recent PhD Supervision completions:
Topic: Arbitration Law and Practice in Kenya as compared to the UK and US with Specific focus on Anti-suit Injunctions and Arbitrability of Disputes, (Coventry University, April 2021).
Topic: Joinder of the third party arbitration proceedings: Lessons learnt from the United Kingdom (Coventry University, July 2021).
Aminu Abbas Abubakar (Nigeria)
Topic: Right to Economic Self-Determination and the Role of International Law in the Contemporary Sovereign Debt Bondage: A Case Study of Nigeria (Coventry University, July2021).
Muhammad Ibrhim Bukar (Nigeria)
Topic: A critical Analysis of challenges of effective enforcement of international humanitarian law: A study of the fight against Boko Haram in Nigeria (Coventry University, November 2021).
External activities
Margaret Liu has been involved in the following external activities:
The External Examiner (2016-2020) of various LLM and graduate law programmes at London South Bank University in the areas of International trade law, principles of international commercial law, mediation and negotiation, international business, human rights and corporate responsibility, Chinese business law, civil justice, contexts, theories and challenges, civil litigation practice, Dissertation, international commercial arbitration, legal advice (clinical) and international commercial law research methods.
Acting as a referrer on book reviews for many publishers, e.g., "International Human Rights Law", the Oxford University Press, 2021 (this book will be published in 2023), Education applications & Development V, InScience Press 2020, and De Schutter's "International Human Rights Law", Cambridge University Press, etc.
Collaboration with CIArb's East Anglia Branch on the "Yong Dispute Resolution ADR Competition" for PhDs (2020) and encouragement of our PhD students to take part in the competition to focus on the role of Alternative Dispute Resolution, and attendance of the announcement of the winners on 31 March 2021 (Anna Osei Kwabena won the fourth place for the CIArb University students/young graduate's ARD competition among 43 competitors across the UK).
Collaboration with "The West Midlands Legal Doctoral Network (WMLDN)" to provide a platform for Coventry University PhD students where they can freely exchange research ideas, update research information and enrich learning experiences with partner universities of Aston University, Birmingham City University, The University of Wolverhampton, Warwick University and Birmingham University.
Organisation and Chair of WMLDN Conference 2019 on "Getting Critical for PhD studies".
Collaboration with Wismar University (German) to organise workshops with participants of Coventry and Wismar students for enrichment of students' learning experiences in 2017. Margaret is keen to continue with the link with Wismar University.
Organisation of a study visit to the International Tribunal for the Law of Sea to enable students to respect cultural differences in relating to judicial practice and academic legal studies and appreciate the development of international law.
Chair of Sessions at international conferences and workshops, e.g., "Flipped Learning & Flipped Classroom" at the 8th International Conference of Education, Research and Innovation with publication of a paper of "Flipped classroom: Is it the next step for law teaching?" at the Conference; and "Sustainable Development Goals (SDGs) & International Treaty Issues" at the EU-CARICOM LAW Conference 2018 in Trinidad & Tobago, etc.
Keynote lectures at many international conferences, e.g., "Is the Information Commissioner a Promoter of Transparency for Better Governance?" at IIAS 3rd International Conference; "The UK quality of public Service: A shift towards a rights-based public service?" at the 27th International Congress of Administrative Sciences; "Universal human rights: A challenge to state sovereignty?" at Hope International Conference on Human Rights, and "Flipped classroom: Is it the next step for law teaching?" at the 8th International Conference of Education, Research and Innovation, etc.
Publications and press
Selected Recent Journal & Book publications:
Liu, M. & Quoteshat, E., 'Third Party arbitration in the UK: critically assessing the applicable rules of the joinder of two different proceedings under the Brussels Recast Regulation (EU 1215/2012)', 20 May 2021. European Competition Law Review. 42, 6, p. 303-315.
Liu, M. 'The Impact of the UK's BREXIT on Anti-suit Injunctions'(chapter 3), 13 Oct 2020, EU & CARICOM: DILEMMAS versus Opportunities on Development, Law and Economics. Roberts, A. E., Hardy, S. & Huck, W., (eds.). Routledge Taylor & Francis Group, p. 24-37.
Liu, M., 'Flipped for critical thinking: evaluating the effectiveness of a novel Teaching approach in Postgraduate Law Modules', 19 Jun 2020, Education applications & Development V. Carmo, M. (ed.). Portugal: InScience Press, p181-191. (Advances in Education and education Trends Series).
Ndolo, D. & Liu, M., 'The State of International Arbitration in Kenya'. Mar 2020. International Arbitration Law Review. 23, 1, p.40-69.
Liu, M., 'Chinese Migrant Children: Do they have the Right to education?' 22 Jul 2019, The Asian Yearbook of Human Rights and Humanitarian Law: Law, Gender and Sexuality. Rehman, J., Shahid, A. & Foster, S. (eds.) Vol. 3. P. 303-330.
Liu, M., & Ndoloe, D., 'A Departure from West Tankers after Brexit? Anti-suit Injunctions in the UK Directed to Parties in EU National Courts'. Dec 2018, Irish Journal of European Law. 21, 1, p.55-67.
Ndolo, D. & Liu, M., Revisiting Anti-suit Injunctions Post Brexit: Some Lessons from US, 23 Mar 2018 Kluwer Arbitration
Liu, M & Ndolo, D., 'Arbitration in the Republic of Ireland after Brexit', 19 Dec 2017, Irish Journal of European Law. 20, 1, p.53-62.
Ndolo, D., & Liu, M., 'Is this the end? The effect of Brexit on the arbitration of EU competition laws in the UK'. 2017. European Competition Law Review. 38, 7, p. 322-330.
Ndolo, D., & Liu, M., 'Does the Will of the Parties Supersede the Sovereignty of the State? Anti-suit Injunctions in the UK Post-Brexit', 2017, Global Competition Litigation Review,10, 2, p. 53-61.
Liu, M. & Qouteshat, E., 'Third party arbitration under English law', 5 Oct 2016, International Journal of Law and Interdisciplinary Legal Studies, 2, 1, p.34-41.
More information of publications can be found on her Pure profile and Orcid pages.