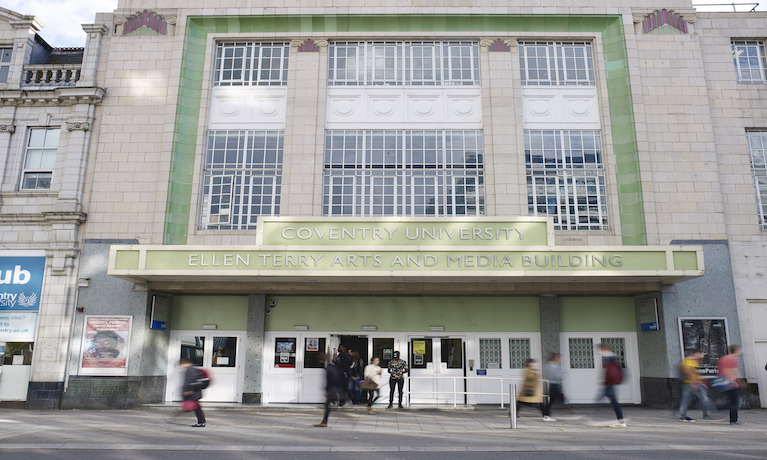 Gwénola Bescond
Course Director, Languages for Global Communication
Faculty of Arts and Humanities
About
Gwénola Bescond has been Course Director since 2014, in charge of the French Programmes: French Single Honours, French and Spanish, French and English, French and Teaching English as a Foreign Language, French and Business, French and International Relations as well as Languages for International Business.
Her main course is now Languages for Global Communication, designed in 2016, following a Sprint Week with the Disruptive Media Learning Lab. As well as Course Director for Languages for Global Communication, Gwénola is currently Module Leader for the following modules: Regional Perspectives on Intercultural Studies; Professional Qualifications Preparation; Translation Theory and Practice; Introduction to Business Communication; The Language of Marketing and Advertising.
Career overview
Gwénola has taught at Coventry University since 2006. She started as Lecturer, Senior Lecturer and is now Assistant Professor as well as Senior Fellow of the Higher Education Academy.
Before Coventry University, Gwénola was a teacher of Latin, Spanish and French in schools. She also taught French at the University of Warwick as well as English for Academic Purposes for the Cambridge Education Group, where she prepared prospective students for the IELTS English Language Testing. Gwénola also holds a Post Graduate Certificate in Education in French and Spanish, Qualified Teacher Status and the Advanced Cambridge Certificate.
Gwénola has, this 2021-2022 academic year, led the Curriculum Transformation project for Languages for Global Communication, which will offer a set of enriching new modules. She will be Module Leader for, for instance, Research Methods from September 2023, which will help first-year students become acquainted with the world of academia.
Gwénola's role within the School of Humanities is also to support students with disabilities, as well as to act as a link between the School and the Disability Office. Gwénola is also part of the Equality, Diversity and Inclusion Committee for the Faculty of Arts and Humanities.
Gwénola has recently supervised students on areas such as Higher Education and Employability in Western Africa; The Relationship between France and Western Africa; Obstacles met by Women in Politics; Female Genital Mutilation as a Global Issue; Social Media and Generations Y, Z and Alpha; Language and Marketing; Inclusivity and Marketing.
Gwénola is also Module Leader for Absolute Beginners as well as Post-Beginners.
Research
Gwénola is undertaking a PhD at the University of Birmingham on the inclusion of students with disabilities in English and French Higher Institutions. As part of her research, she has visited and worked with institutions such as UNESCO in Paris, to understand the international recommendations underpinning disability inclusion.
Before working on her PhD, Gwénola examined the inclusion and education of Dalit women in rural areas of India's Tamil Nadu for her Master thesis.
Gwénola has also been working on a project, in partnership with the Faculty of Law, which looks at the importance of Court Interpreters in Legal Proceedings. From this academic year, second year students will also be involved in the project, benefitting from the University mock Court Room.
Gwénola has also been increasingly interested in blended / hybrid learning. Gwénola started creating blended online courses in 2008 and is now, with her Languages team, exploring Virtual Reality for the Languages Courses.
Gwénola has linked inclusion and blended / hybrid learning together and has analysed, with staff from English and Languages, possible communication issues whilst interacting online.
Gwénola has a curiosity for regional languages, she examines the sociolinguistic importance of coexisting languages in the Francophone world with her students in class. She is also currently learning Breton, the language of her ancestors.
External activities
Gwénola has been a proactive member of the inter-organisational Coventry City of Languages project, as part of Coventry City of Culture 2021, and led its launch on the University campus in October 2021. The project was subsequently mentioned in Parliament in April 2022 and won the UK Parliament Award.
Gwénola also took a course in simultaneous interpretation and acts as a translator for University projects: 'The West African Network for Organic Agriculture, Research and Training'; 'The Impact of Policies for Plagiarism in Higher Education across Europe', for instance. She has also reviewed translation works such as for a Fashion Entrepreneurship course for Senegal.
Publications and press
Bescond, J. (2013) La Bible en Vers. Golias:Paris. Translation of the work into English.
Speaker at the Southampton 'LLAS annual E-learning Symposium': 2012, 2013, 2014, 2015- group action-research telecollaboration project on online interaction, CoCo and MexCo, awarded a £60,000 grant from the Higher Education Academy.
Speaker at the Ghent 2014 'ICED International Educational Development in a Changing World' conference: cross-faculty law and languages research on court room environments for interpreters.
Orsini-Jones, M., Lloyd, E., Gazeley, Z., Lopez-Vera B., and Bescond, G. (2015) 'Student-driven intercultural awareness raising with MexCo: agency, autonomy and threshold concepts in a telecollaborative project between the UK and Mexico'. In Globalizing On-line: Telecollaboration, Internationalization and Social Justice. Ed. by Tcherepashenets, N. New York, USA:  Peter Lang, 199-239.
Orsini-Jones, M., M., Lloyd, E., Bescond, G., Lee, F. & Boylan, R. 22 Nov (2016) 'Troublesome multimodal multiliteracy development for global citizenship in international intercultural exchanges: the MexCo project case study' In Practice and Evidence of the Scholarship of Teaching and Learning in Higher Education - PESTLHE. 12, 2, p. 205-228 24.
Orsini-Jones, M., Lloyd, E., Cribb, M., Lee, F., Bescond, G., Ennagadi, A. & Garcia, B. 1 (2020) 'The Trouble with Cyberpragmatics: Embedding an Online Intercultural Learning Project into the Curriculum'. In Multicultural Instructional Design: Concepts, Methodologies, Tools, and Applications. IGI Global: Hershey PA.