Benet Vincent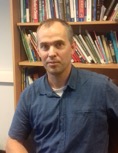 Biography
Prior to moving into academia, I gained considerable experience as an EFL and EAP teacher in Russia, China, the UK and Turkey, where I became increasingly interested in Corpus Linguistics, eventually moving to the University of Birmingham to complete my PhD, 'Modality and the V wh' pattern. I have now been working as a Lecturer in Academic English at Coventry for over 2 years. I teach both undergraduate international students and postgraduate students on the MA in ELT and AL course. I also co-supervise two PhD students who are working in the area of Corpus Linguistics approaches to student EAP genres.
My main research interests are applications of and approaches to Corpus Linguistics, in particular in EAP but in other areas too. I have published in the areas of Corpus Linguistics and EAP, including in academic writing. I have recently become involved in a project looking at translation of an invented language, Nadsat (in 'A Clockwork Orange') and am also investigating hedging in the BAWE corpus. I am a consultant for the Pakistan National Corpus of English.
Qualifications
MA Applied Linguistics, University of Birmingham 2010
PhD English Language and Applied Linguistics, University of Birmingham 2015
Research
I am involved in project investigating the use and translation of Nadsat in Anthony Burgess's A Clockwork Orange with Dr Jim Clarke and Prof Patrick Corness at Coventry University as well as Dr Gabriela Saldanha and Dr Sofia Malamatidou at the University of Birmingham.
I am also involved in project with Aleksandar Trklja (University of Birmingham) investigating hedging in the BAWE Corpus. We presented our initial work at Discourse and Corpora conference, Siena July 2016.
I am currently investigating the expression of obligation in the BAWE Corpus.
Selected Outputs
Vincent, B. (2015) 'The phraseology of the N that pattern in three discipline-specific pedagogic corpora'. in Corpus Linguistics 2015: Abstract Book. ed. by Formato, F. and Hardie A. Lancaster: UCREL, 435-437
Vincent, B. (2013) 'Modality and the V wh pattern'. in Corpus Perspectives on Patterns of Lexis. ed. by Hasselgard, H., Ebeling, J. and Ebeling, S. Amsterdam/Philadelphia: John Benjamins. 247-270
Vincent, B. (2013) 'Investigating academic phraseology through combinations of very frequent words: a methodological exploration'. Journal of English for Academic Purposes 12 (1), 44-56
Vincent, B. and Şener Nordling, M. (2011) 'Researching and implementing a pedagogic genre: The short answer'. in Proceedings of the 2009 BALEAP Conference: English for Specific Academic Purposes. ed. By Etherington, S. Reading: Garnet Publishing, 79-85
Teaching
Advanced Business English
MA in ELT Corpus Analysis for English in Professional Contexts
Academic Interests
Corpus Linguistics
English for Academic Purposes
Modal meaning
Vocabulary learning
Translation