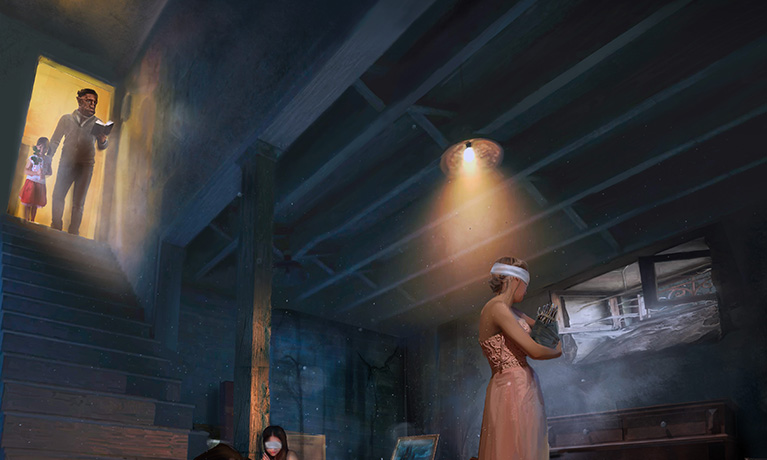 ---
Wednesday 01 December 2021 to Friday 03 December 2021
Location
Cost
Event details
Coventry University BA Theatre and Professional Practice are pleased to present a unique chance to see Mary Zimmerman's 'The Secret in the Wings'.
On a dark and stormy evening in a gloomy basement, Chloe is left in the care of her neighbour, Mr Quade. But is Mr. Quade someone with a tale to tell or an actual ogre with a tail? Through seven tales of loss, transformation and cruelty – he takes her on a dream-like exploration of the darker side of human impulses that reminds her that not every fairy tale has a happy ending.
From Blind Queens to magic snake leaves, from shipwrecks to stolen pennies, from cursed swans to a princess with a truly vicious streak, these are not bedside stories for children but cautionary tales about the world of adults. The Secret in the Wings is an invitation for adults (and very brave children) to immerse themselves in a magical storybook experience, a journey into the imagination, from a basement to forests, castles, battlefields, snake infested tombs and ships on stormy seas.
The Secret in the Wings doesn't shy away from the darkness that exists within us. Instead, it pulls us in, wraps us in its tendrils, and hypnotizes us with a sometimes dark, sometimes silly dreamscape that is filled with all manner of characters representing the best and worst we have to offer.
Performance times
Wednesday 1 December: 7.30pm
Thursday 2 December: 2.30pm and 7.30pm
Friday 3 December: 2.30pm and 7.30pm
Enquiries
For enquiries please contact Tom Gorman