Inaugural Lecture: John Allen, Professor of Biosensor and Bioinstrumentation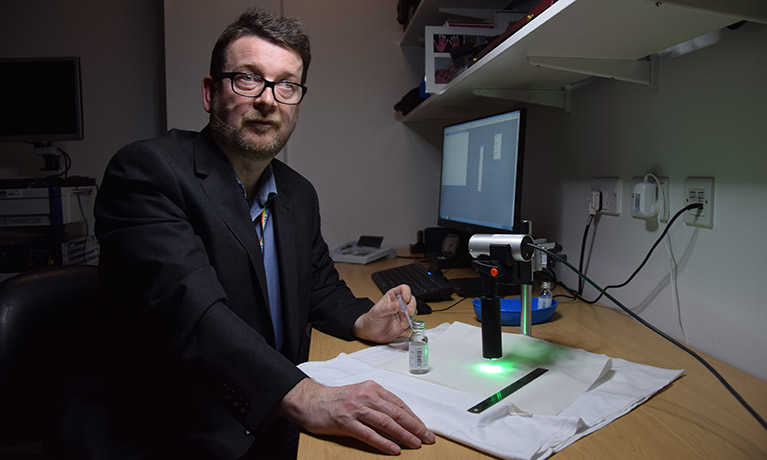 Public lectures / seminars
---
The Power of Light in Microvascular Sensing and Assessment.
Subtle changes in the vasculature can be linked to early stage disease, for example in conditions such as diabetes, autoimmune connective tissue disease / linked Raynaud's phenomenon, cancer, as well as vascular ageing. The microvasculature can be assessed in a number of ways including using light to probe tissue structure, function and blood flow in the smallest of the blood vessels. The vascular optics sensing technology involved doesn't have to be complicated or costly, for example, simple optical "PPG" pulse sensors can help us detect or rule out vascular disease, measure heart rate and oxygen saturation as well as assess ageing; a simple hand-held microscope at the nailfold area of a finger can reveal certain auto-immune diseases quite early in the disease process; wearable technologies have the capability to be miniaturized to allow a wide range of ambulatory and community based assessments in health and disease. My lecture will summarise the state-of-the-art in vascular optics, biosensing and applications.
Professor John Allen is Chair in Biosensors and Bioinstrumentation at the Research Centre for Intelligent Healthcare
He started his career working in instrumentation and control engineering before moving into biomedical engineering after studying a master's degree in Bioengineering at Strathclyde University. In 1989 he joined the NHS and Northern Medical Physics and Clinical Engineering department at Newcastle's Freeman Hospital, then became lead Clinical Scientist. John has a PhD in the vascular optics pulse technique known as photoplethysmography, and holds a personal honorary Readership with Newcastle. He is a Chartered Engineer, Chartered Scientist, State Registered Clinical Scientist, and a Fellow of the Royal Photographic Society.
At Newcastle's Freeman Hospital he set up a unique vascular optics measurement facility for patient microvascular assessments and a main group assessed was those with a suspected auto-immune connective tissue disease including patients with Raynaud's phenomenon.
Enquiries