Inaugural Lecture: John Devane, Professor of Painting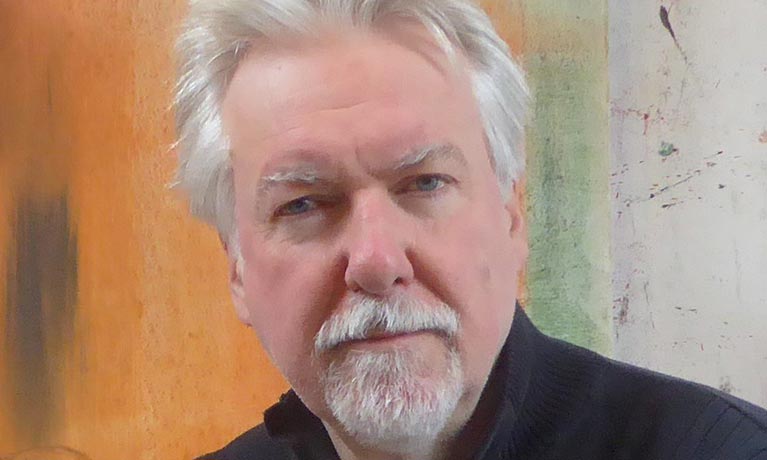 Public lectures / seminars
---
Thursday 28 January 2021
06:00 PM - 07:00 PM
Location
Cost
The materiality of painting in the digital age
In a world saturated with digital images, the activity of painting may seem anachronistic and idiosyncratic. Notwithstanding, painting practice seems to continually reinvent itself in our changing world. To celebrate Creativity Month, John's lecture considered the expressive potential of the materiality of painting in the digital era and included examples of his own practice contextualised in relation to the history of western painting and  in particular, in relation to recent developments in the field.
John Devane is a painter and printmaker and since graduating from the Royal College of Art he has taught and exhibited widely. In 2013 his painting 'The uncertain time' was awarded second prize and runner-up in the BP Portrait Competition. More recently, a painting entitled 'Weeping Woman' was selected for the Columbia Threadneedle Prize in 2018. 
John Devane is Professor of Painting in the Centre for Arts, Memory and Communities (CAMC) in the Faculty of Arts & Humanities. He is also Professor of Painting at the Royal Birmingham Society of Artists (RBSA).  
John's research is largely practice based and is concerned with the problematic nature of pictorial representation in relation to materiality of painting in the digital age. Although wide ranging in thematic content, the paintings are invariably linked by a sense of personal narrative combined with photographic and cinematic material. Light and illumination play a crucial role in the pictures and the forms within the paintings are developed through a direct engagement with the process of painting itself. Images culled from quite disparate sources are combined and morphed together and the serendipitous connections are explored for their expressive potential. 
Watch John Devane's Inaugural Lecture 'The Materiality of Painting in the Digital Age.'
Enquiries