Electronics and Communication Engineering MEng/BEng (Hons)
Course Code
UCAS Code: BEng: H601
UCAS Code: MEng: H679
International Code: BEng: EECU135
International Code: MEng: EECU133
Location
Coventry University (Coventry)
Study mode
Full-time
Sandwich
Duration
BEng:3 years full-time4 years sandwich
MEng:4 years full-time5 years sandwich
Start date
September 2023
This is a proposed new course for 2023-24 entry and the course content will be added shortly. Please keep checking back on this course page to see our latest updates.
---
Course overview
Study level: Undergraduate
This course presents electronics and communication engineering (ECE) as a synergy of electronics, signal processing, computing, and data transmission. ECE Graduates are expected to move into careers creating cutting-edge systems in a wide range of fields, from autonomous vehicles to the Internet of Things.
This programme in electronic engineering aims to deliver strong academic content, conveyed with a strong factual focus with the aim of preparing you, upon successful completion, to take on the challenges present in the many fields of engineering and research, which require electronic engineering graduate expertise.
The main aim of the course is to develop a wide range of applications and technology in the field of electronics and communication such as 5G/6G communication, autonomous vehicle, IoT, amongst others.
From the outset, we aim to place an emphasis on innovation, design, and development to enable you the opportunity to enrich your technical skills in the field of electronic and communications.
A further aim is to develop the intellectual and independent thinking necessary to participate in contemporary projects and to peruse further studies and research in the field of electronic communication engineering.

Global Ready
An international outlook, with global opportunities

Teaching excellence
Taught by lecturers who are experts in their field

Employability
Career ready graduates, with the skills to succeed
Why you should study this course
Well-equipped dedicated electronics and communication laboratory to build an electronic prototype.
Explore latest networking and security protocols in a modern CISCO laboratory.
Opportunities to gain international experience through field trips and group-based final year project2.
Wide variety of support through personal tutoring, sigma centre, centre of academic writing and personal tutoring scheme4.
You may also like
Coventry University (Coventry)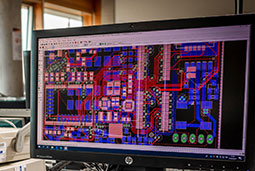 Electrical and Electronic Engineering MEng / BEng (Hons)
Coventry University (Coventry)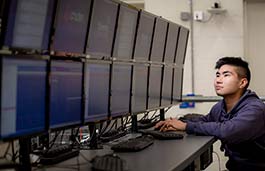 Computer Systems Engineering MEng / BEng (Hons)
---
Disclaimer

This is a new course for 2023-24 entry and the course content will be added shortly. Thank you for your patience.